Glad you stopped by. Sit a spell and take some time to visit. There's a lot to, ahem, consume on this site.
I am the publisher of this site and the author of most of the content on this website. I am also a member of the Barbecue Hall of Fame and the author of Meathead, The Science of Great Barbecue and Grilling, a New York Times Best Seller and named one of the "100 Best Cookbooks of All Time" by Southern Living.
Dad was the first to call me Meathead after watching Archie Bunker and now everyone calls me that. No offense taken. In fact, I love it. It's better than what my editors and my wife call me. If you've read this far, you're my BBQ buddy and you can call me whatever you want.
Why do I produce AmazingRibs.com? Because I am drawn to flame and I have spent enough time around it that I have become a Barbecue Whisperer, Hedonism Evangelist, and Culinary Mythbuster. An eater, drinker, writer, photographer, and teacher and I love cooking. Almost as much as eating. Especially outdoor cooking. The Greek god Bacchus is my paragon.
I've had the privilege of judging barbecue and other foods and drinks from Italy to California. I have been a judge at the Jack Daniel's World Championship Invitational Barbecue, at the first Kingsford Invitational, at the California State Fair Commercial Wine Competition, at the Banco d'Assagio wine competition in Torgiano, Italy, at the World-Wide Mustard Competition, and the World Championship Steak Cook-Off. I have served as Chief Judge of the Finger Lakes International Wine Competition and Chief Judge of the College Football Hall of Fame Kickoff Riboff (click the link read my argument for being enshrined in the Hall), and I founded and directed for many years the World Wine Championships, World Beer Championships, and World Spirits Championships. Here's a picture of me at the 1978 Sonoma Harvest Fair with the other judges on my panel, from left, Dr. Vern Singleton, Professor of Viticulture and Enology at the University of California at Davis; Yours Truly; Leon Adams, Author of The Wines of America, the first comprehensive book on the subject; and Andre Tschelistcheff, called "The Dean of American Winemakers", he was a mentor to me and many winemakers including Robert Mondavi.
Along the way I have tried to share my love of the sensory with words and pictures. I was a journalism major at the University of Florida (Class of 1971) and I have written hundreds of articles about food and drink for consumers as a syndicated columnist for the Washington Post (the great Phyllis Richmann was my editor), the Chicago Tribune (several not so great editors), and scores more for the trade magazine Restaurant Hospitality (the awesome Gail Bellamy was my editor). My food columns can still be found on Huffington Post and many other publications.
I've been helping folks learn about food and drink online since 1990 when I started Wine & Dine Online as part of LAOnline, long before anybody typed "w" three times in a row. I then hosted the Food & Drink Network on America Online from 1992-2000, built Tastings.com in 1998, and then built this site in 2005.
I lectured for more than a decade on wine at Cornell University's famous School of Hotel Administration in Ithaca, NY, and I was an adjunct professor at Le Cordon Bleu in Chicago for three years. I have been a guest lecturer at Yale and many cooking schools. As the founder of the Beverage Testing Institute I produced seven books on wine, beer, and spirits and the trade magazine, Beverage Media, named me one of the 12 most influential people in the wine industry. SInce then I have lectured from Yale to the University of Minnesota Meat Science Department and various venues all over the country.
The Book "American Wine, A Coming of Age Story" by Tom Acitelli dives deep into the history of American wine including the Great Chardonnay Shootout, the biggest international chardonnay judging ever, that I organized in Chicago. I am mentioned often in the book for my role as an early champion of American wine.
In 2019 I was selected to be one of the BBQ Stars: Legends of Fire.
As an undergrad I studied photography with the revered Jerry N. Uelsmann. In 1973 I was accepted to the Master's program at the School of the Art Institute of Chicago and my experiments with generative systems began. I immersed myself in technology, trying to get the medium to comply with my visions. In 1976 I curated an exhibit at Columbia College called "Unconventional Imaging Systems" featuring Xerography, telefax, and computer images. In 1977 I was awarded the world's first Masters degree in Art in Technology (it was called Generative Systems then) from the School of the Art Institute of Chicago studying under the pioneering Sonia Landy Sheridan.
My photos have been bought by a lot of folks from TIME to Playboy, and my first one man show was at the gallery at Robert Mondavi Winery. Here's an article about my food photography with tips on technique and a list of my tools.
Among my most powerful childhood memories is the seductive scent of sweetly-sauced ribs sizzling and crisping on Dad's grill. Dad, incidentally, was a food scientist from Cornell University. In cooler weather Mom would roast them in the oven and serve them swimming in sauce. My interest in cooking began when I was about 10 and Mom and Dad opened a restaurant and I got to be a real jerk, a soda jerk. They named the place after a beautiful flower, the Oleander. We later learned it was poisonous, and eventually the restaurant failed. If you ever hear that I'm opening a restaurant, hunt me down and shoot me.
I suppose there is some symbolism in the fact that I went to Fruitville Elementary School near Sarasota, and then went to McIntosh Middle School. At Merritt Island High, my 1967 senior year science project was setting up a test plant to measure the oxygen output from algae, and then harvesting it for food to see if it could be used in space travel. I developed my first recipe, algae cookies. They needed a LOT of chocolate chips. It won a prize from NASA at the 1967 Florida State Science Fair. I just showed pictures of the cookies because if the judges had tasted them I would have been tossed out as a fraud.
I first discovered real barbecued ribs, smoked over wood, at a rickety joint named Y.T. Parker's Bar-B-Q in Gainesville, FL when I was at the University of Florida in the 1960s (click the link to read about my football career there). My parents had warned me that smoking marijuana would lead to harder stuff. Well, they were right. I gave up weed and took up smoking pork. I also discovered hot pepper sauce at Y.T.'s. He put four sauces on the wobbly tables, mild, regular, hot, and one more without a name. If "hot" was not potent enough for you, he would whup one up that was even more flammable. If you could eat it without bursting into flames, he let you name it. Last time I was there he was up to "Super Sabre Jet". Alas, Parker's is now gone.
Since then I have become an omnivore, eating and drinking for a living since 1970. It's a dirty job, but somebody's gotta do it. And I've got wine and sauce stains on all my shirts and the well-marbled waistline to prove I do it well.
Over the years, outdoor cooking has become my passion (my wife would call it my obsession). A radio interviewer introduced me once as a "Barbecue Whisperer and Hedonism Evangelist" a moniker I kinda like. My ambition to share a few recipes and tips is what has fired me up to bring this website to life. I hope you like it!
Sizzle reel
Here's what the pros call a "sizzle reel", a sort of video resumé, with excerpts and outtakes from some of the videos I have written and produced. It runs just over 4 minutes.
15 minutes of fame
Here's a nice in-depth interview with me by my local newspaper, a lot of my history and background.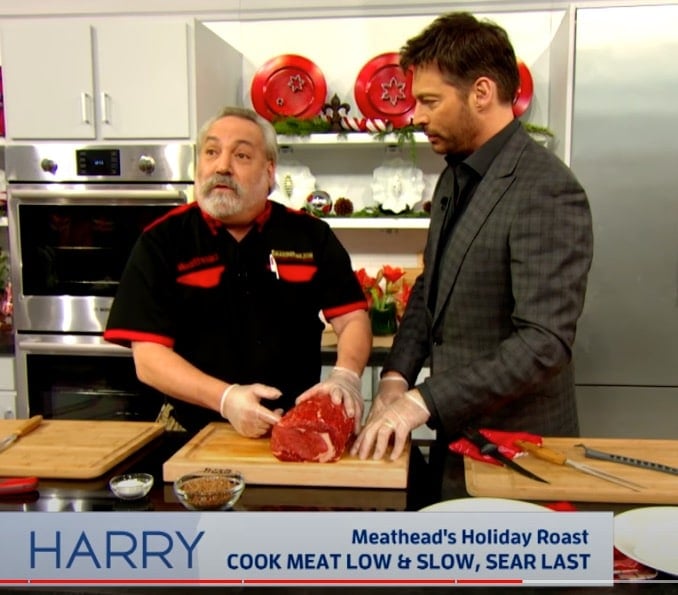 Click here to see Meathead with Harry Connick Jr. talking pulled pork. Click here to see them cook a beef roast.
---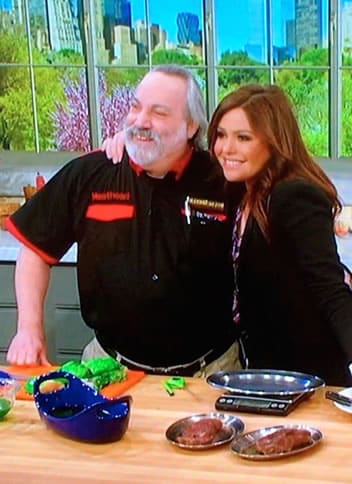 Click to watch Meathead with Rachel Ray
---
Click here for an in-depth interview with Meathead at Anderson's Bookstore in Naperville IL
---
A nice 46-minute radio with Meathead and Dr. Blonder from Radio Boston WBUR
---
Watch Meathead share his turkey cooking tips on WUSA TV in DC
---
The Secret to the Perfect Steak in Parade Magazine
---
Meathead shares his favorite toys and gadgets in Parade Magazine
---
Large article in Houston Chronicle, but you have to be a member to see it.