October 7, 1950 – January 14, 2022
Dr. Antonio Mata, PhD, was a meat scientist known around the world as "The Meat Geek". He had been a Consulting Technical Coordinator to the National Cattlemen's Beef Association and for AmazingRibs.com.
Spotlight on our favorite products
A Propane Smoker That Performs Under Pressure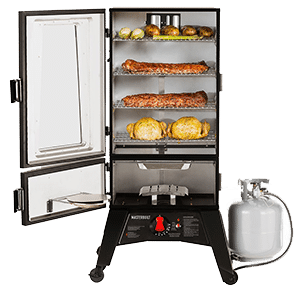 The Masterbuilt MPS 340/G ThermoTemp XL Propane Smoker is the first propane smoker with a thermostat, making this baby foolproof. All you need to do is add wood to the tray above the burner to start smokin'.
Click here to read our detailed review.
– THIS IS NOT AN AD –
For years he answers my meat questions and makes me laugh. He called himself a muscle archaeologist and he helped discover and develop the flat iron steak, found in restaurants and supermarkets across the country, the petite tender steak, and discovered a new cut of meat known as the Vegas Strip Steak(tm), which has been featured on NPR, CBS, Fast Company and many other news outlets and trade publications. In 2013 he was on the Fast Company magazine list of the 100 Most Creative People. Meatingplace Magazine did a cover story and posted videos about him and the Las Vegas Strip Steak.