The next winner could be you! Join now!
Just look at these cool prizes! Each month three winners are selected in a random drawing conducted by an independent sweepstakes administration company. All active members of the Pitmaster Club who are at least 21 years old and reside in the 50 US and DC are automatically entered.
That means you have 36 chances per year to win and your odds are 1-in-444 per year! If you are not already a member of our Pitmaster Club, click here for more info and to join. If you are a member, make sure that your email program is set to accept emails from AmazingRibs.com because we notify winners by email and make sure your snail mail address is in the US. We also post winners in the Pitmaster Club Forum so be sure to check in regularly.
Each month, GRAND PRIZE winners get to select from the prizes below under the heading GRAND PRIZE. They run in value up to $3,000!
Meanwhile, SECOND PRIZE winners get to select a prize among the options listed below under the heading SECOND PRIZE and they run in value up to $600.
And finally, THIRD PRIZE winners get a package of a variety of cool stuff worth $400*, all listed below under the heading THIRD PRIZE.
Note that GRAND PRIZE winners are not eligible for additional prizes for 10 years after winning. Second Prize and Third Prize winners are eligible again starting the next month. Click here to learn why you must have a US address. Click here to read the complete rules. Click here to see past winners and what they picked. (* Note that top prize values can vary depending on participating brands and product availability).
Here's Jim Doyle, one of the winners with his $1,500 Slow N Sear Kamado and more:
GRAND PRIZE
Future winners get to choose from these great prizes.
Blaze Prelude 25″ 3-Burner on Cart, MSRP $1,950
Blaze is a new brand with an interesting history. Parent company, BBQGuys.com, carries a vast catalog of products for cooking, grilling and entertaining, including a variety of popular gas grill brands. This basic model has few frills, but is beautifully made in high grade 304 stainless steel with a seamless welded hood and 8 mm stainless rod grates. It has three heavy, cast stainless burners with 14,000 BTU each. Flame stabilizing grids blanket the burners to spread heat and reduce flare ups. Removable dividers between each of the main burners accentuate heat zone separation. On "High", it can hit 650°F, with the optional IR ceramic sear burner, Blaze blasts to 850°F. It's a breeze to swap out one of the mains for the sear burner, because all burners slide in and out of valve posts at the front by the control panel and are held in place by cotter pins at the back: No tools needed. We tested the next size up, Blaze 32″ 4-Burner. Click here to read our complete review. Specify LP or NG, with or without a cart.
---
---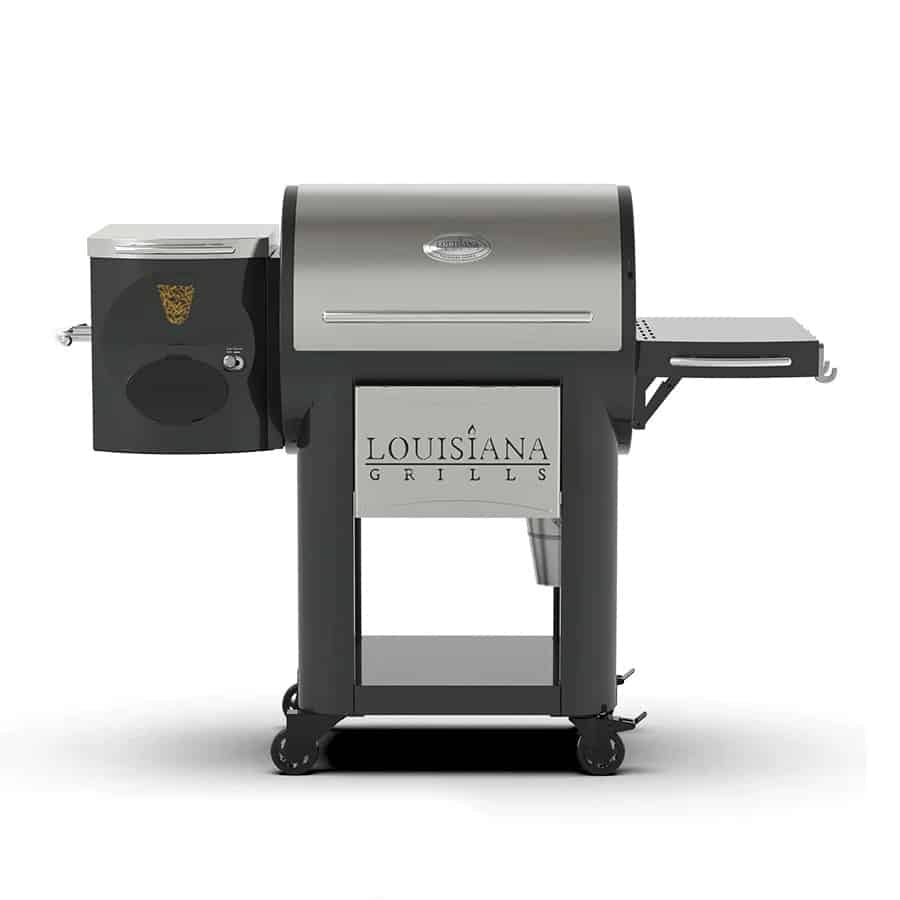 Louisiana Grills Founders Legacy 800 Pellet Grill, MSRP $1,899
From its attention to detail to its high heat searing capabilities, there is so much to love about the Louisiana Grills Founders Legacy pellet cooker. We tested the larger Founders Legacy 1200 model. Click here to read our full Platinum Review.
---
Broil King Keg 5000 With Cover, MSRP $1,044
All kamados, including the Broil King Keg, are good at smoking, roasting, baking, and searing thin meats and the thick walls make them impervious to cold, but they're typically made of ceramic which is very heavy and can crack if dropped or knocked over. Not the BKK. It is made with modern, lightweight fiberglass encased in powder coated steel: not light enough to pick up and carry around but easy to lift off the base and pop onto the optional trailer hitch. And if it does get dropped it won't crack like Humpty Dumpty. This is the Low & Slow Pro Package with Meat Claws, Marinade Injector, and Keg Diffuser Kit. Click here to read our complete review of the Broil King Keg 5000.
---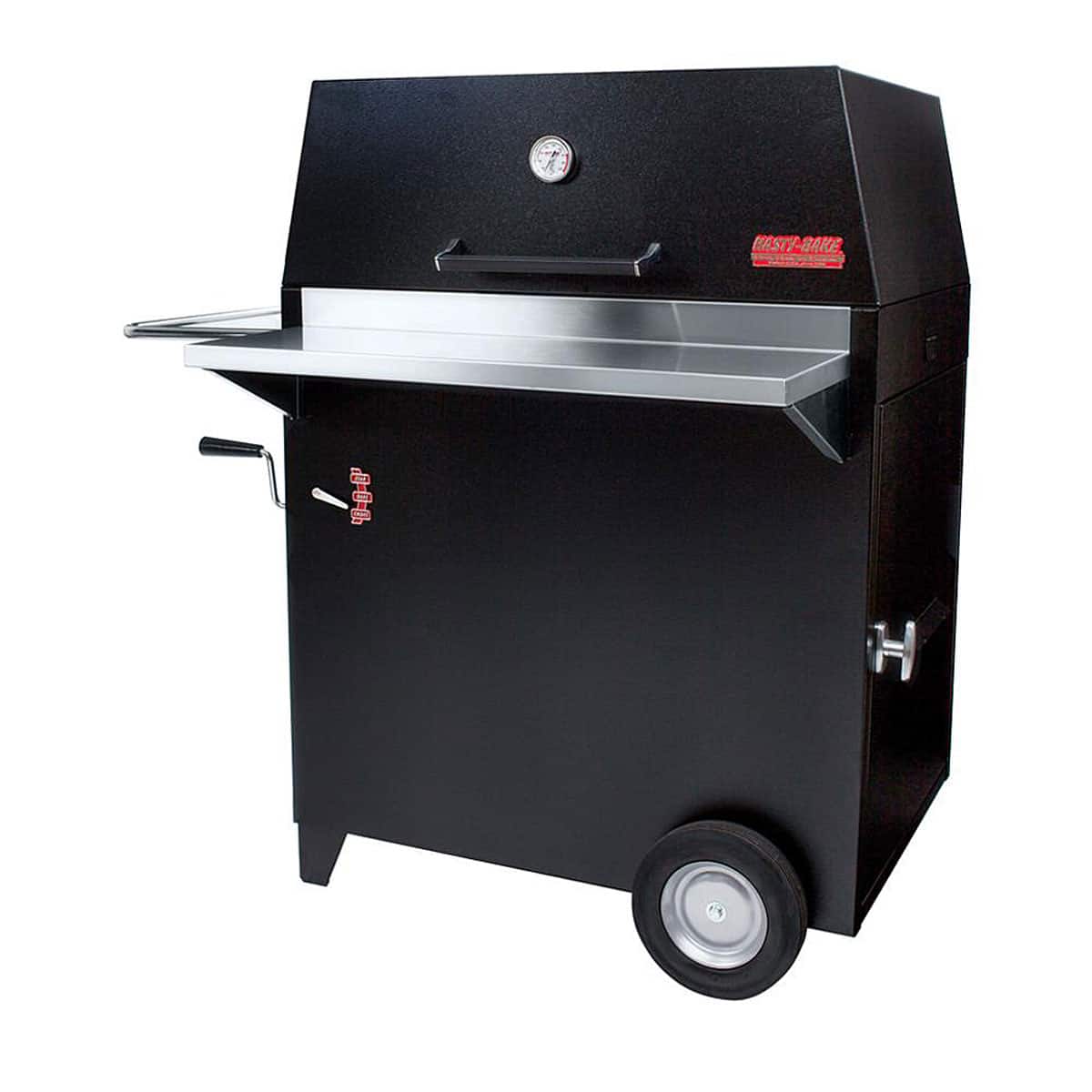 Hasty Bake Legacy 131 Charcoal Grill, MSRP $1,199
Since 1948 Hasty Bake has made charcoal cookers with a unique design that specifically enables owners to easily and effectively smoke, grill and super-sear with one unmodified cooker and no optional add-on devices. The adjustable coal tray moves up and down with a crank on the left side. A large door on the right side gives complete access to the charcoal tray to easily add coal and move it around for 2-zone cooking. There is a removable heat deflector above the charcoal grate to improve indirect cooking. Hasty Bakes are made to last and many families hold onto them for generations. The company even offers restoration on old models. Our president, Meathead, says Hasty Bakes are his favorite charcoal grills. Period. Made in the USA. Click here to read our full, detailed review of the Hasty Bake Legacy 131.
---
Modern Home Products JNR4 Gas Grill, MSRP $1,083
Modern Home Products pioneered the first gas grills in the early 1960s. This model harkens back to those days with a classic, super thick cast aluminum cookbox that is virtually indestructible and carries a limited lifetime warranty on just about everything. Instead of flavorizer bars over the burners to protect them and incinerate drips, it uses rust-proof, kiln fired, porcelain coated ceramic briquets. The appearance may lack sizzle, but people who own these heavy aluminum grills get hooked on the way they cook. If you could see it through their eyes, it wouldn't look like a big black box at all. Still made in the USA in Antioch, IL. Click here to read our complete review of the Modern Home Products JNR4.
---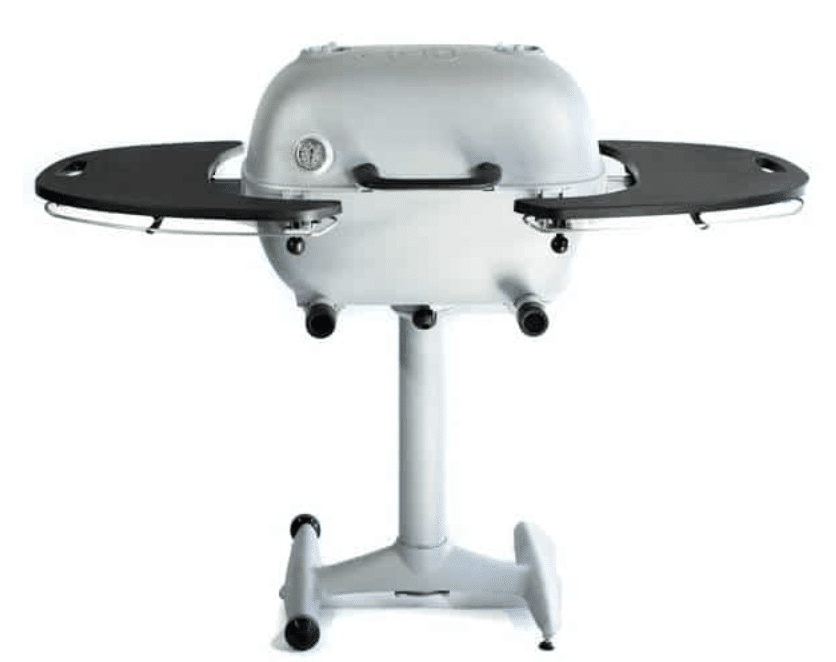 The Portable Kitchen PK360 Grill and Smoker, MSRP $999
Portable Kitchen's motto, "Built To Cook. Built To Last" is backed up by numerous testimonials of loyal fans who lovingly pass down their indestructible PKs from one generation to the next. The heavy, rust-proof cast aluminum construction and marine grade stainless steel grates on PK360 look slick, provide superior performance and should last a long long time. PK360's flat bottom and rectangular shape, coupled with a 4-point venting system make it particularly well suited for two zone cooking with one side set for moderate, indirect heat and the other for hot, direct heat. 4-point venting consists of 2 unusual, cylindrical intake dampers under the charcoal grate, with 2 corresponding exhaust dampers on the lid for excellent air control from side to side and bottom to top. Click here to read more about the importance of 2-zone cooking. This baby easily pops apart for camping and tailgating with no tools needed. Simply loosen three knobs that hold each side shelf and one large knob that bolts the grill to the pedestal stand. You can leave the stand at home because the grill bottom has built-in feet to stabilize 360 when set on the ground. Click here to read our complete review.
---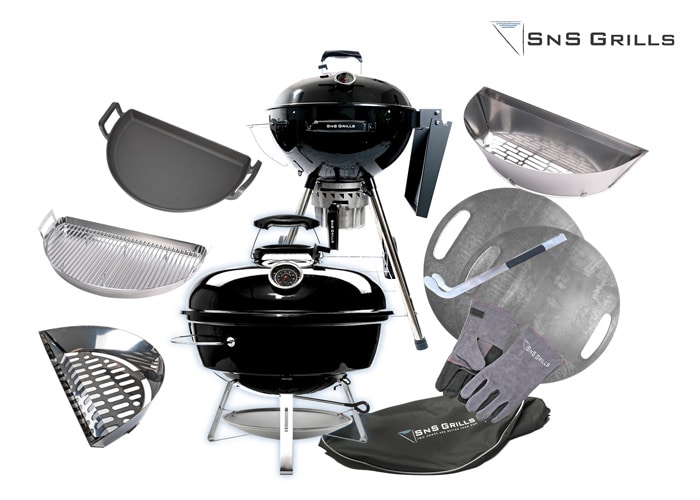 SnS Grills Slow 'N Sear Platinum Bundle, MSRP $1,000
The Slow 'N Sear Kettle Grill has a high quality 304 Grade Stainless Steel cooking grate and built-in ports for a temperature controller, like BBQ Guru, and your digital temperature probes. This Deluxe Package includes the following items:
Slow 'N Sear Deluxe 22″ Kettle, with cover
Slow 'N Sear 18″ Travel Kettle, with cover
Slow 'N Sear Deluxe 22″ Insert
Slow 'N Sear Charcoal Basket (for 18″ or 22″ kettles)
Drip 'n Griddle Pan
Cast Iron Drip Pan
22″ Carbon Steel Plancha
18″ Carbon Steel Plancha
SnS Grills 13″ Leather Heat Tolerant Grill Gloves
SnS 17″ Stainless Steel Charcoal Cherry Picker Tongs
Click here to read our review of the Slow 'N Sear Kettle Grill.
---
SECOND PRIZE
Future winners get to choose from these great prizes.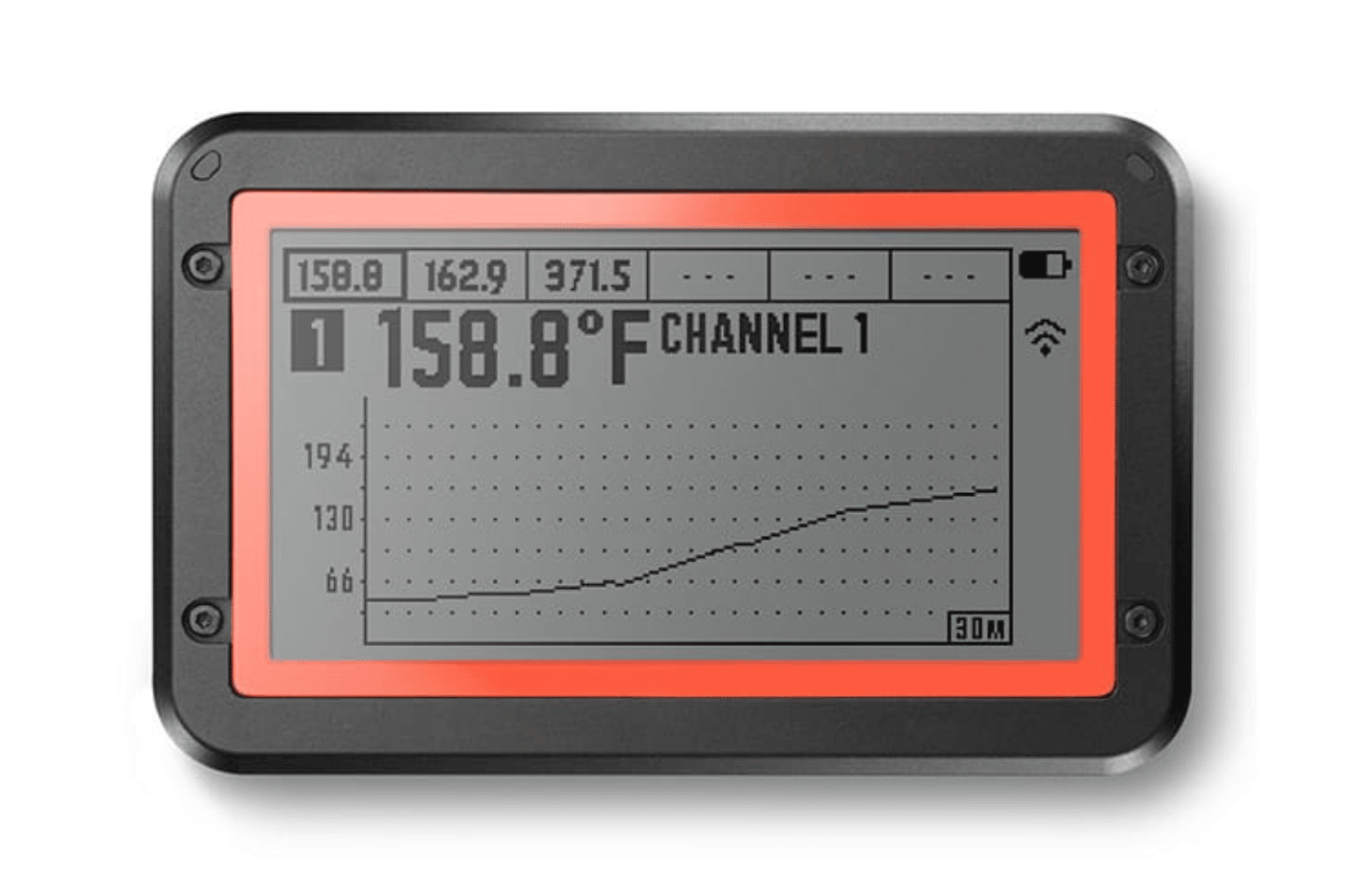 Fireboard 2 Drive FBX2D Thermometer, retail price $249
FireBoard 2 Drive FBX2D is an updated version of a well-received product that sets the standard for performance and functionality in the wireless food thermometer/thermostatic controller class. We give Fireboard our top Platinum Medal for ease of use, quality of construction and features. Includes one ambient probe with clip and two food probes. Click here to read our complete review of Fireboard 2 Thermometer.
---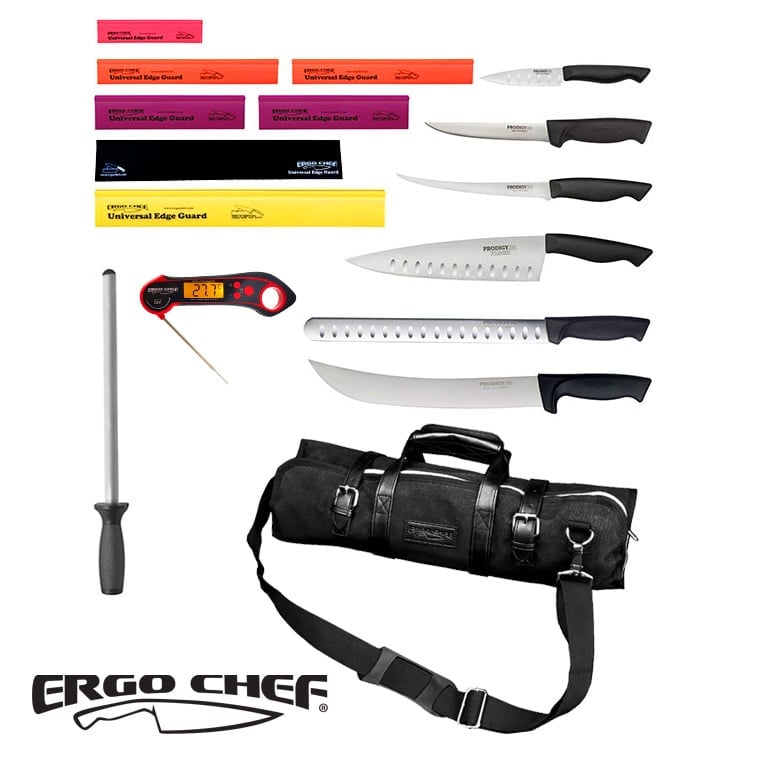 Ergo Chef's Ultimate Grilling Kit Knife Set, MSRP $325
We've got you covered with one of the coolest BBQ Tools Sets around, pulled from Ergo Chef's Professional BBQ Prodigy Series with Non-Slip Grip Handles and German Type High Carbon Steel. You get a 4" Paring Knife, 6" Boning Knife, 7.5" Swept Tip Flexible Fillet Knife, 10" Chef Knife, 12" Slicer Knife, 12" Cimeter, Digital Quick Read Thermometer and a 12" Diamond Oval Sharpening Rod to keep them all at top performance. Plus a 10 Pocket Heavy Duty Waxed Canvas Knife Bag with Handle & Shoulder Strap to safely store and transport these super sharp beauties. Universal Knife Edge Guards are included to protect them all when not in the bag.
---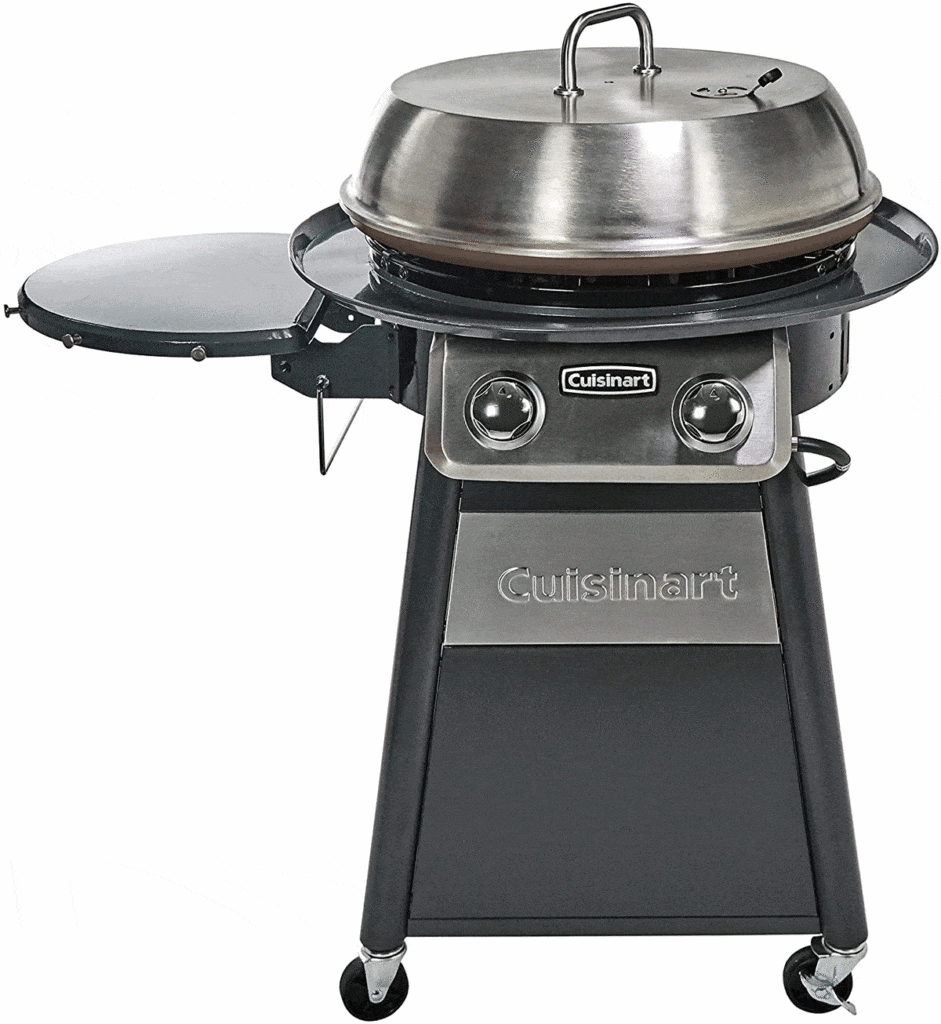 Cuisinart 360 Griddle Cooking Center, MSRP $350
They say that innovation comes in all shapes and sizes and the Cuisinart 360 Griddle Cooking Center immediately speaks to that. Most outdoor griddles are rectangular, but one of the first things you notice about the Cuisinart 360 Griddle is that the cooking surface is round! The 22" griddle sits atop a two burner system that transfers heat from two independently controlled burners to the griddle surface. Click here to read our complete review of Cuisinart's 360 Griddle.
---
Green Mountain Grills TREK Prime, MSRP $399
The Green Mountain Grills TREK Prime is a portable pellet cooker that is small and light enough to use for tailgating but large and sturdy enough for the back patio, too. Well-constructed and with excellent documentation, it is an excellent choice for a portable smoker. Click here to read our complete review of TREK.
---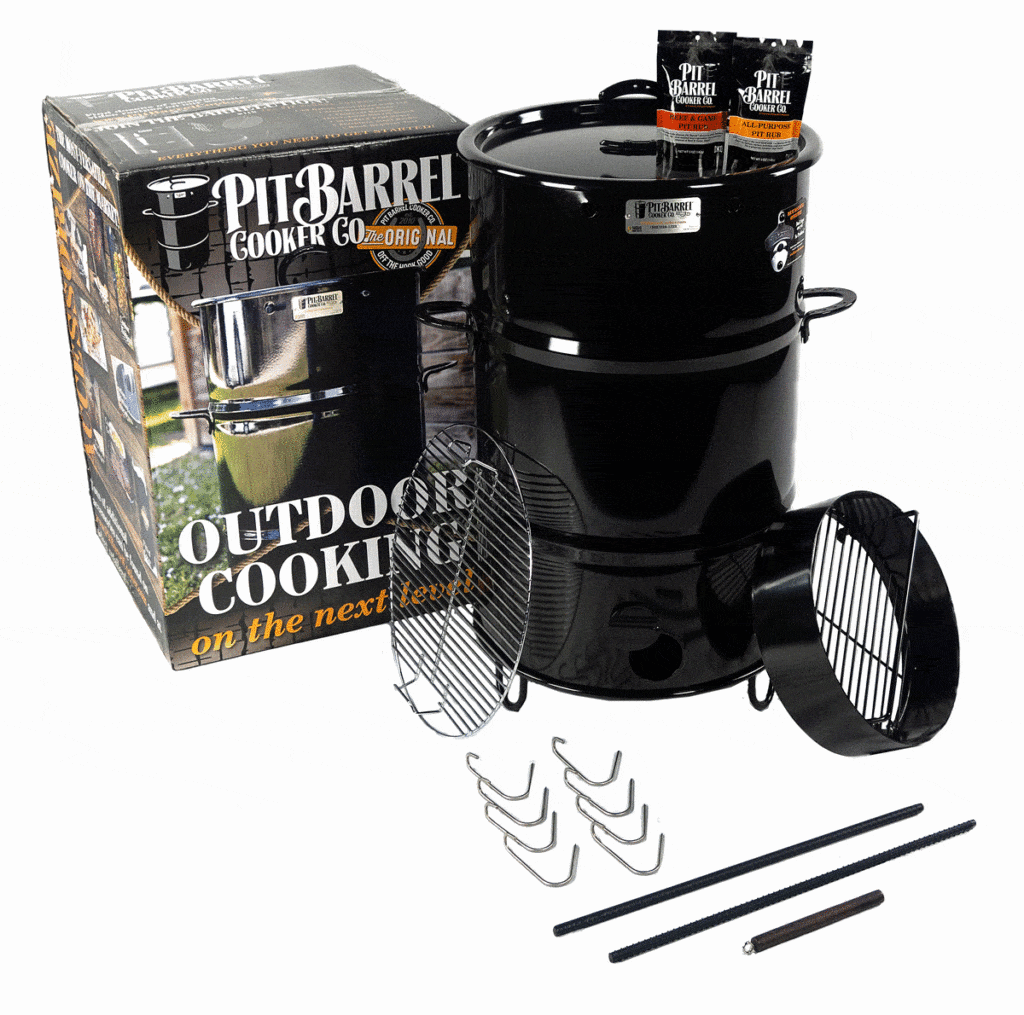 Pit Barrel Cooker, MSRP $399
There's nothing else like it on the market. $399 delivered to your door. Open the box and start smoking. No assembly, no baby sitting and great results every time. If you've wanted to get a dedicated smoker or replace a cheapo rust bucket that never worked well anyway, the PBC beats anything in this price range hands down.
It's a variation on the Ugly Drum Smoker or UDS, but the drum is slightly smaller and, although it comes with a grate, for most recipes you hang the meat vertically from hooks – even turkeys! Your jaw will hit the deck as you pull one round of deliciously smoked meats after another from this magic drum with little more effort than trimming and seasoning. Furthermore the meat hanging method provides beaucoup capacity. PBC easily accommodates eight full slabs of ribs. Whether you're a novice or an award winning competitor (and competition teams now use them), Pit Barrel is a welcome addition to any backyard. Click here to read our complete review of the Pit Barrel Cooker and to order one if you don't win.
---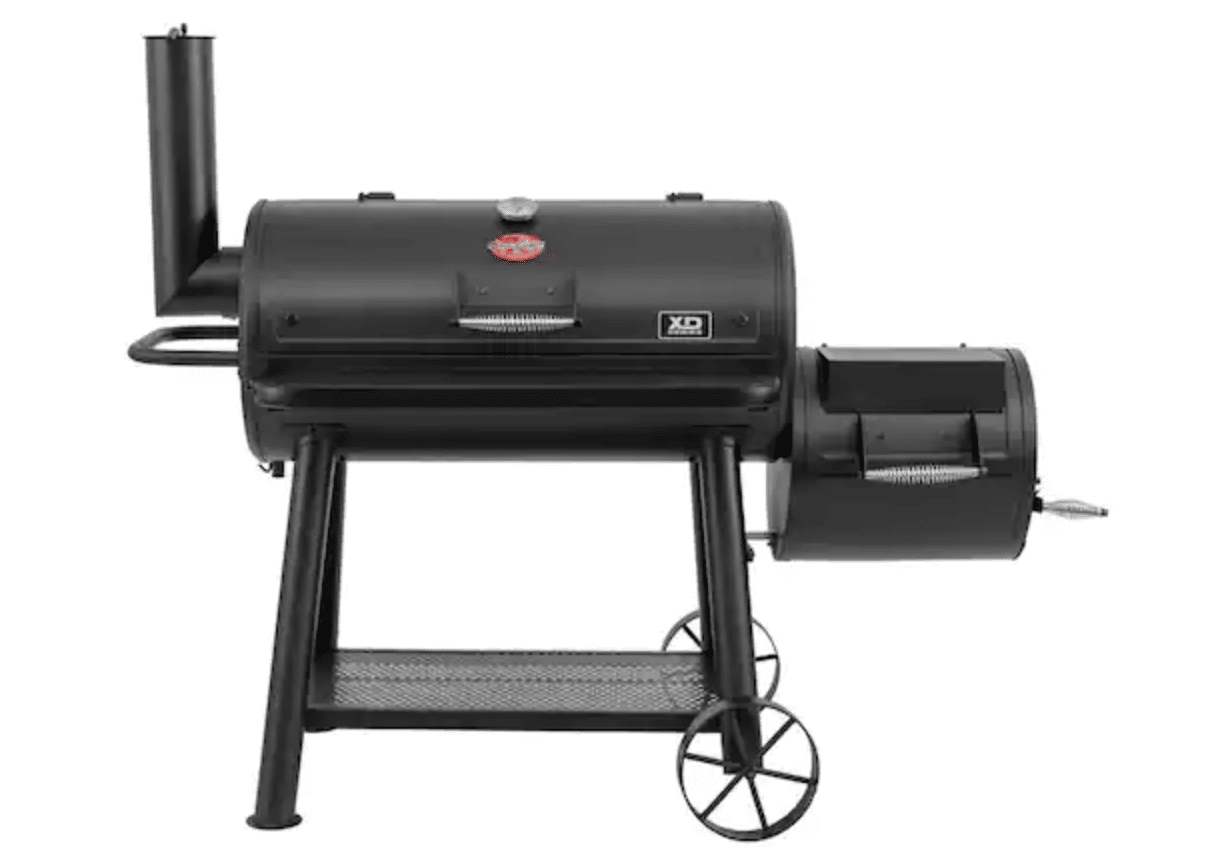 Char-Griller's Grand Champ Offset Smoker, MSRP $599.99
We always advise our readers to stay away from cheap offset smokers and jump straight to high-quality, heavy metal models. But Char-Griller's Grand Champ provides an intermediate alternative; not cheap as the $200 tin can models, but way less than classic quarter-inch steel competition smokers. Click here to read our review of Char-Griller's Grand Champ Offset Smoker.
---
THIRD PRIZE
Future winners get ALL of these great prizes worth $450!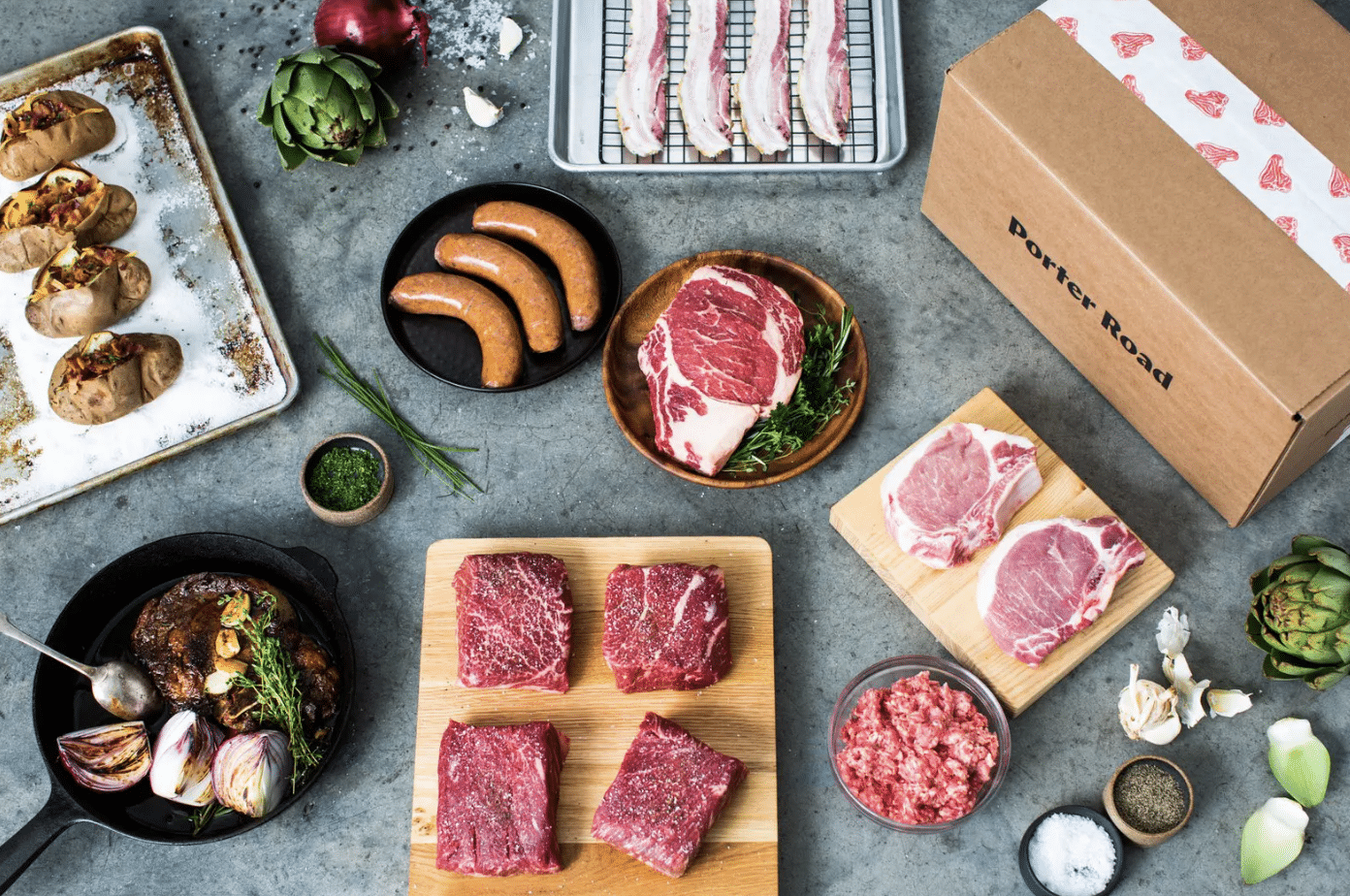 A $100 Gift Certificate From Porter Road Meats!
Located in Nashville, Porter Road Meats is a specialist in pasture-raised beef, pork, lamb, and chicken free of antibiotics, hormones, and GMOs. All their beef is dry aged for 14 days. They process all meat in their own facility in Kentucky, and expertly hand-cut every piece. They ship the meat fresh and not frozen!
---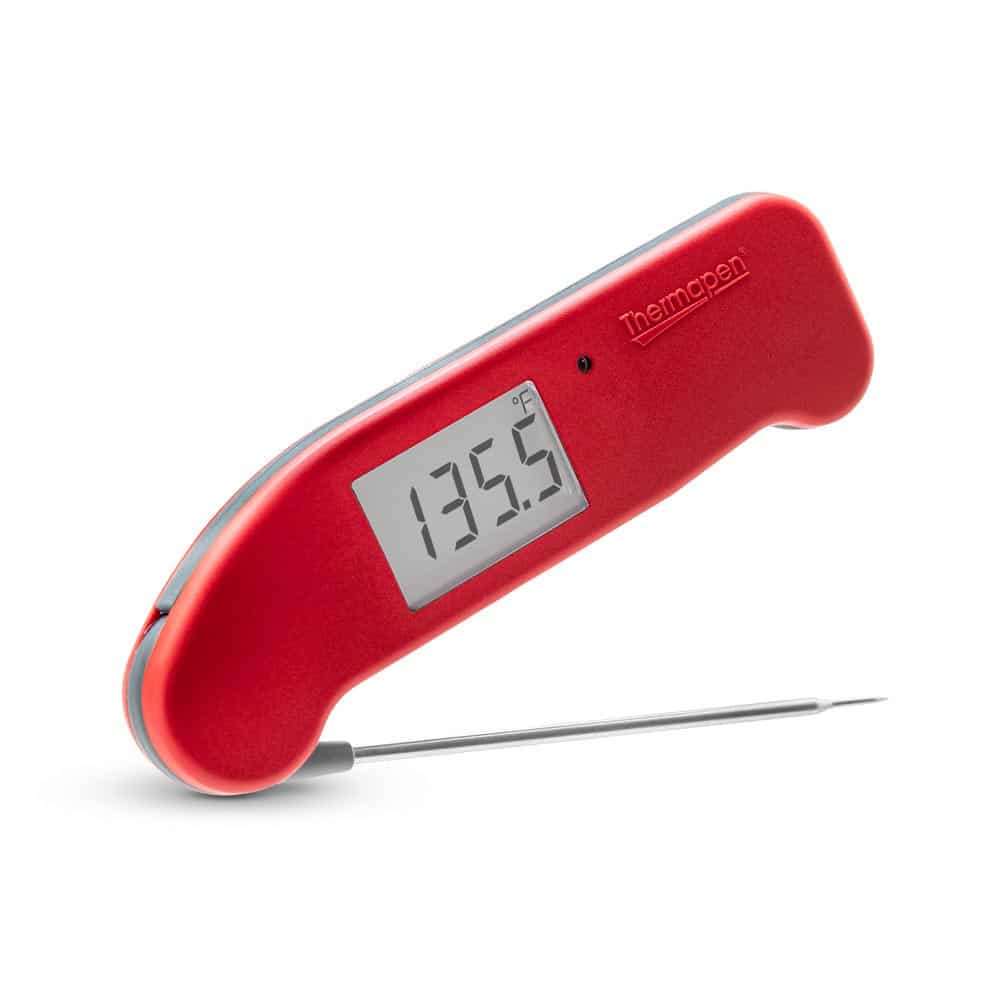 ThermoWorks Thermapen ONE ($100 Value)
ThermoWorks Thermapen has been the go-to-instant-read thermometer for years. The new, super fast Thermapen ONE has a one second response time, improved accuracy, and a brighter backlight. Click here to read our review.
---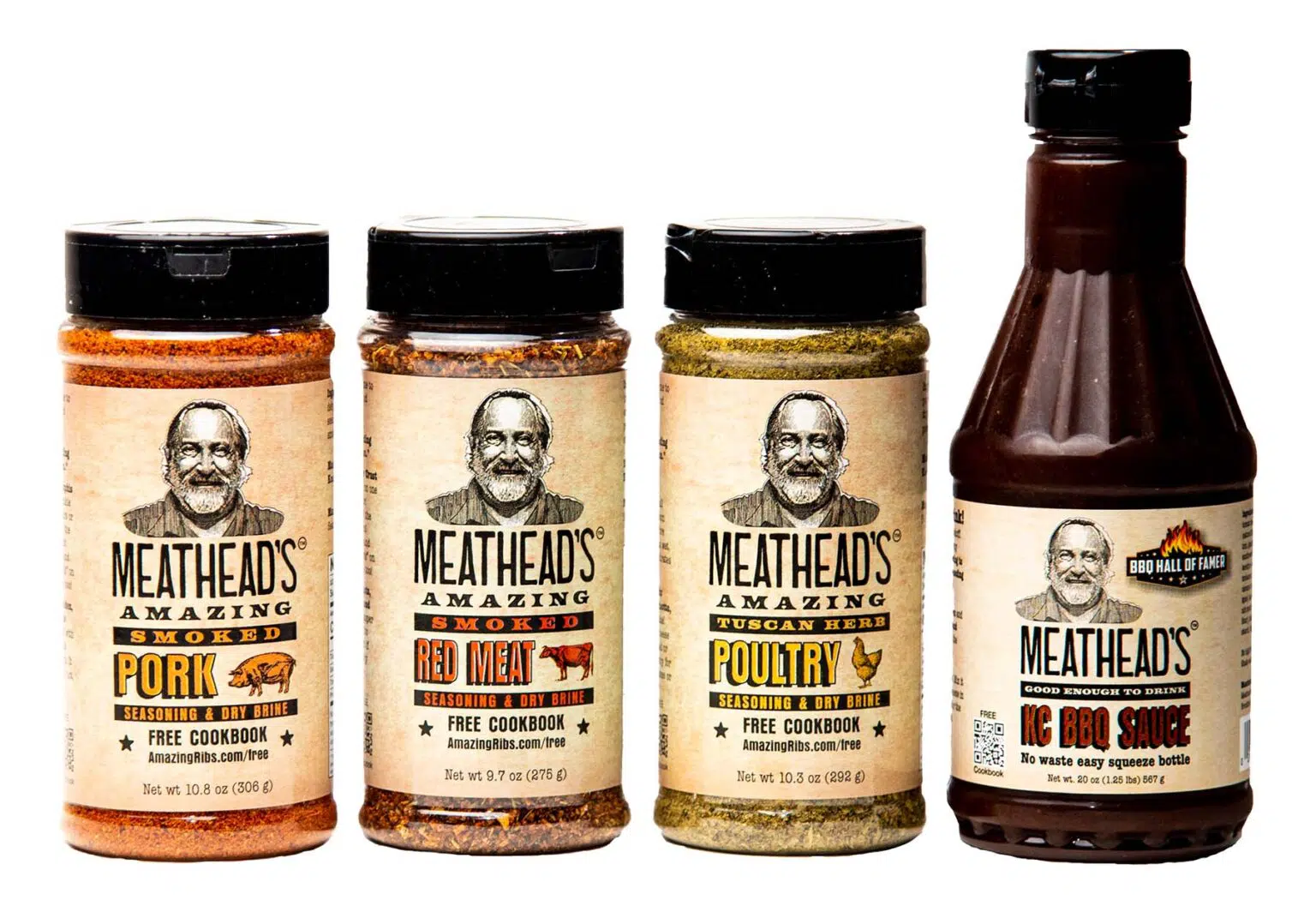 Four-Pack of Meathead's Amazing Rubs And Sauces ($52.57 Value)
Enjoy a bottle of our "Good Enough To Drink" KC BBQ Sauce, Smoked Pork Seasoning & Dry Brine, Smoked Red Meat Seasoning & Dry Brine, and Tuscan Herb Poultry Seasoning & Dry Brine. That's a $52.57 value. Click here to read more about these wonderful Big. Bold. Flavors.
---
Black Swan Barbecue Sauces ($35 Value)
Many of you know Max Good as our Director of Equipment Reviews and Keeper of the Flame. Did you also know he also manufactures award-winning Black Swan Gourmet BBQ Sauces, sold around the world? In fact, that's how we discovered him. He has decided to pour a little sauce on our already tasty Sweepstakes. Winners will get a gift set of three 18 ounce bottles of Black Swan Gourmet BBQ Sauces, one Sweet Cognac (mild), one Original (medium), and one Beso Del Fuego (Kiss of Fire). That's a $35 value.
---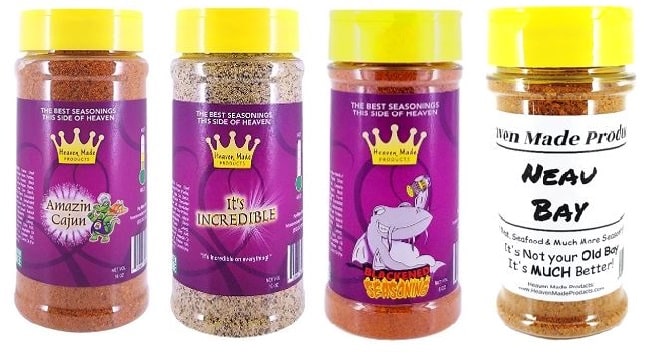 4-Pack Of Premium Seasonings From Heaven Made Products ($60 Value)
Heaven Made Products are low-salt, low MSG, and they're gluten-, soy- and egg-free, but HIGH umami, and this makes them a unique addition to the rubs and seasonings market. The winner will receive a 4-pack of 16-ounce jars of their popular seasonings: Amazin' Cajun, It's Incredible, Neau Bay, and Blackened Seasoning; a $60 value.
---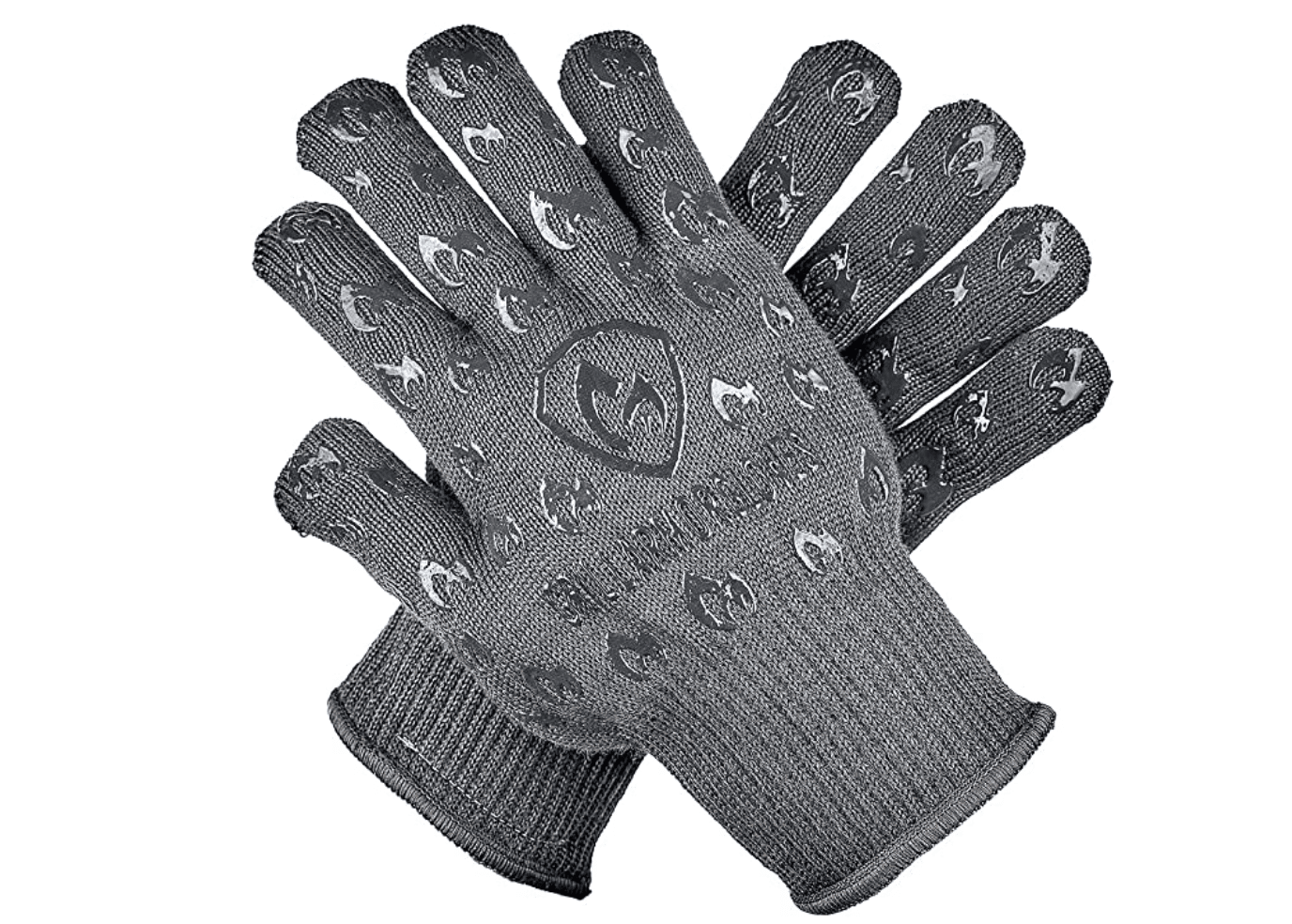 2 Pairs Grill Armor Extreme Heat Resistant BBQ Gloves, 1 regular 1 waterproof ($60 Value)
The Grill Armor Gloves cooking and grilling gloves are EN407 certified and can withstand heat up to 932°F. These are thick but lightweight gloves, with flexible five fingers flex design and silicone super-grip, providing the highest protection for your hands, so you can cook with confidence!
---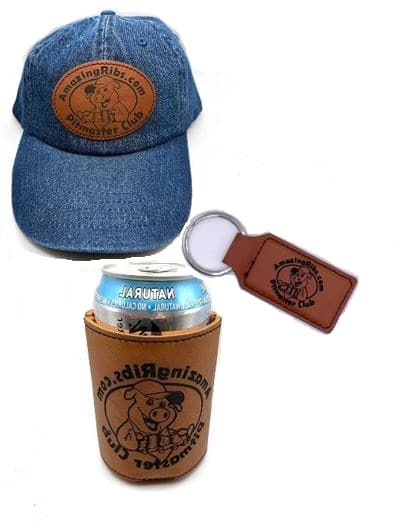 Set Of Pitmaster Club Branded Products From Member Mark Garetz, a.k.a. "mgaretz", ($48 Value)
A set of three AmazingRibs.com Pitmaster Club branded leatherette products from member "mgaretz" (Mark Garetz) including a keychain, hat with Pitmaster Club patch, and a set of four koozies.
---
Official Rules For The AmazingRibs.com Sweepstakes
THE FOLLOWING SWEEPSTAKES IS INTENDED FOR VIEWING IN THE 50 UNITED STATES AND DC ONLY (EXCLUDING, WITHOUT LIMITATION, ALL US TERRITORIES) AND SHALL ONLY BE CONSTRUED AND EVALUATED ACCORDING TO UNITED STATES LAW AND AMERICAN ENGLISH. YOU MUST BE THE AGE OF MAJORITY IN YOUR STATE OF RESIDENCE WITH A VALID EMAIL ADDRESS TO ENTER.
NO PURCHASE NECESSARY
A PURCHASE WILL NOT INCREASE YOUR CHANCES OF WINNING A PRIZE.
RULES
1) The drawing will be held on the first day of the month at 12:00:01 a.m. Central Time (CT). Non-winning entries from one month will not be rolled over to subsequent months. Sponsor's website clock is the official timekeeper for this Sweepstakes for all purposes.
2) Eligibility: This Sweepstakes is open only to legal residents residing in the 50 United States and DC (excluding all territories and external Commonwealths) who are at least the age of majority in their state of residence. Sweepstakes void where prohibited, licensed, restricted, or taxed. Employees, officers, directors, representatives, former employees, vendors, and their immediate families (spouse, parents, children, siblings, and each of their spouses regardless of where they live) and/or members of the household of AmazingRibs.com ("Sponsor") employees and TMACO, LLC d/b/a THE MARKETING AGENCY ("Administrator"), their respective parent companies, subsidiaries, advertising, design, web design, web hosting, legal advisors, consultants, and publicity agencies, anyone connected with the production or distribution of this Sweepstakes (the "Sweepstakes Entities") and all prize providers, and any previous winners, are not eligible to enter or be awarded a prize.
3) Two ways to enter
a) Paid in full Pitmaster Club members are automatically entered. This page shows the details of the monthly drawing being run. You will see the drawing dates, the prizes that are available to be won and the Approximate Retail Value ("ARV"). If you are a paid in full member of the Pitmaster Club at the time of the drawing, you will automatically receive one (1) entry. To become a member of the Pitmaster Club go to /pitmaster
b) No purchase required to enter. If you are not a paid in full member of the Pitmaster Club, you may enter by sending a postage-paid, 3.5″ x 5.5″ postcard with your hand-printed name, complete address, daytime phone number, date of birth, and valid email address for which you are the "authorized email user" to: AmazingRibs.com Pitmaster Club Sweepstakes, c/o The Marketing Agency, PO Box 11919, Fort Lauderdale, FL 33339-1919. You may not hand deliver it or use any other means than the US Postal Service. Your entry must be postmarked no later than the last day of the month to be eligible for that month's drawing received by the 7th day of the next month. You will receive one (1) entry. Entries that do not contain all the information requested or are duplicates or oversized entries, copies and other mechanical reproductions are not permitted for mail-in entries and will be disqualified from drawings. Sponsor is not responsible for illegible, lost, late, misdirected, postage-due, damaged or incomplete entries. Proof of mailing an entry is not proof of receipt. "Authorized email user" is defined as the natural person who is assigned an email address by an online email service, Internet access provider, online service provider or organization (e.g. business, educational institution, etc.) that is responsible for assigning email addresses for the domain associated with the email address. It is an entrant's responsibility to track his/her email account as that is how s/he will be notified if s/he has been chosen as a potential prize winner. In the case of a dispute regarding who submitted a particular online entry, the entry will be deemed submitted by the authorized account holder of the email address submitted on the entry form.
c) One entry allowed. You may enter only once per month regardless of method of entry. All entries made in violation of these Official Rules will be void and ineligible to win a prize. You may not enter with multiple email addresses and/or multiple identities nor may you use any other device or artifice to obtain more than the maximum number of entries allowed per month. All discovered entries made in violation of these rules will be deleted. All entries submitted become the property of Sponsor and none will be acknowledged or returned.
4) Winner Selection. For each drawing: Three (3) winners will be chosen, one each GRAND PRIZE, SECOND PRIZE, and THIRD PRIZE winner, up to 15 days after the end of the month, in random drawings from eligible Pitmaster Club entries and mail-in entries postmarked. Potential winners will be notified via email within five (5) business days after the selection is made, to the email address on file with the Pitmaster Club or as stated on the mail-in entry. Members are responsible for making sure the email address the Pitmaster Club has on file is accurate. The potential winners will have five (5) days to respond agreeing to accept the prize and supplying a complete mailing address (no PO Boxes will be accepted). The potential winners will then be sent an "Affidavit of Eligibility, Liability, and Publicity Release" (where legal) by the Sponsor, via email, which will have to be completed and emailed to Administrator within five (5) days of date on notification or it will be concluded definitively that the prize has been declined and forfeited for all time and, without further notice, an alternative winner will be selected in random drawings. Neither Sponsor nor Administrator is responsible for electronic communications which are undeliverable as a result of a change in email address, any form of active or passive filtering of any kind, or insufficient space in entrant's email or phone account to receive email messages.
5) Prizes: Quantity, Approximate Retail Value ("ARV") and Odds: There will be three (3) winners per monthly Drawing: GRAND PRIZE winners get to select one (1) prize from the prizes listed under the heading GRAND PRIZE. SECOND PRIZE winners get to select one (1) prize among the prizes listed under the heading SECOND PRIZE. THIRD PRIZE winners get a package of a variety of prizes. GRAND PRIZE winners are not eligible for additional prizes for 10 years after winning. SECOND PRIZE winners are eligible again starting the next month. The choice of prizes available will be shown prior to the start of every Drawing. Sponsor reserves the right to substitute a different make or model of comparable value. ARV: Initial prize values will vary depending on which prize is chosen. These values will change from month to month and will be shown on the prize page above prior to each monthly drawing but they may not be accurate.
Odds of winning any prize: Dependent on the total number of eligible entries awarded during the Drawing in question and mail-in entries. All prizes are awarded "as is." Prizes that are "Tuition Scholarships" to classes do not include travel to attend the class or any other expenses other than the tuition value. Should a greater number of prize claims be received because of printing, emailing, phoning, messaging, programming errors or for any reason whatsoever, only the prizes and the values stated in these Official Rules will be awarded in the sole discretion of the Administrator according to these Official Rules.
6) General: By participating in this Sweepstakes, you agree to be bound by these Official Rules. Sweepstakes administration will be conducted by the Administrator, the independent judging organization, and Sponsor whose decisions are final and legally binding. No participant or winner shall have the right to contest any decision by Sponsor or the independent judging organization concerning any aspect of the Sweepstakes or the interpretation of the Official Rules or the determination as to the qualification of entries. Sponsor is not responsible for those who cannot access the Internet or cannot click-through for any period of time to become a Pitmaster Club member regardless of technical, hardware, software, telephone, Internet, virus contamination or network problems, or for delay, failure or malfunction for any reason including, but not limited to, lost or unavailable network connections, failed, incomplete or garbled computer or telephone transmissions, typographical or system errors, human errors including, but not limited to, errors by Sponsor or Sponsor's representatives who enter incorrect information into any computer systems or by force majeure. Sponsor assumes no liability for damage caused to entrant's or any other person/entity's computer device or hardware, software or communications network, regardless of cause. Sponsor reserves the right to cancel/terminate, modify or suspend the Sweepstakes if in Sponsor's sole determination it believes that the integrity of the Sweepstakes has been, or could be, compromised or that the Sweepstakes is not capable of running as planned or fairly, including force majeure or any other causes beyond Sponsor's control. One (1) winner will be drawn from among all eligible entries awarded up to the time of cancellation/termination of that Drawing and mail-in entries postmarked by the date of cancellation/termination and received up to seven (7) days later. Further Drawings might not take place. Sponsor reserves the right to disqualify any entry from the Sweepstakes if in Sponsor's sole judgment entrant has not complied with these Official Rules. Without limitation, all of an entrant's entries will be disqualified, at the sole discretion of Sponsor, if entrant attempts (i) to enter the Sweepstakes through any means other than as described in these Official Rules; or (ii) provides information that is inaccurate or fraudulent; or (iii) attempts to disrupt the Sweepstakes or circumvent the terms and conditions of these Official Rules. Only the prizes and the values listed at the time of each drawing shall be awarded.
7) The right to receive a prize is non-assignable and non-transferable and no prize substitution or transfer will be allowed except by Sponsor who may substitute a prize of comparable or greater value. A prize or prize notification that is returned as undeliverable will disqualify the potential winner and an alternative winner shall be selected in random drawings. In order to ship the prize the prospective winner must supply Sponsor with a simple completed Affadavit of Eligibility, Liability, and Publicity Release. GRAND PRIZE winners must also submit a digital picture of him/herself.
8) This Sweepstakes is governed by the laws of the state of Florida. By entering this Sweepstakes, an entrant explicitly releases, discharges and holds harmless the Sweepstakes Entities and all their respective shareholders, estates and assigns, one and all, from any and all liability, actions, causes of action, damages, actual, incidental or consequential, claims and demands whatsoever in law or equity, including all "costs", which s/he now has or may acquire, by reason of any personal injury, death, loss of or damage to property, or any reason, occurring during or arising out of his/her participation or non-participation in the Sweepstakes and the acceptance and/or use or misuse of a prize. By accepting a prize, winner waives the right to (i) assert as a cost of winning the prize any and all costs of verification and redemption or travel to redeem said prize, and (ii) claim any liability (including attorney's fees and costs) which might arise from redeeming or seeking to redeem said prize (including any travel related thereto), or (iii) or request reimbursement for taxes that must be paid on any winnings over $600 in value.
9) All federal, state and local laws, regulations and ordinances apply. If any provision of the Sweepstakes shall be deemed to violate any federal, state or local law, regulation or ordinance, it shall be amended to conform to such law and all other provisions shall remain in full force and effect. If Sponsor is required by applicable federal, state or local law, regulation or ordinance, or by action of an administrative agency to cease offering the Sweepstakes in any jurisdiction, Sponsor reserves the right to (i) terminate the Sweepstakes in such jurisdiction in its entirety, and/or (ii) cancel and remove from participation in the Sweepstakes any and/or all entries from entrants residing in such jurisdiction, without penalty and without obligation to any Sweepstakes entrants. Sponsor's failure to enforce any term of these Official Rules shall not constitute a waiver of that provision.
10) Taxes. The US Government requires that sweepstakes winners pay taxes on their winnings. All taxes are winners' responsibility.
11) Errors and omissions. Sweepstakes Entities shall not be responsible for technical, pictorial, typographical or editorial errors or omissions in any marketing materials or these Official Rules.
12) Personal information. Sponsor and Administrator collect personal information from you when you enter the Sweepstakes. The information collected is subject to the Sponsors privacy policy found at Terms of Service and The Marketing Agency's Privacy Policy found at http://themarketingagency.com/html/privacyPolicy.html. Acceptance of a prize constitutes permission to use a winner's name, city, and state on a Winners List and in promotional materials.
13) Disputes. Entrant agrees that any and all disputes, claims and causes of action arising out of or connected with this Sweepstakes or the prize awarded and all issues and questions concerning the validity, interpretation and enforceability of these Official Rules shall be resolved individually, without resort to any form of class action, and exclusively in a court of competent jurisdiction in Broward County, Florida and all entrants agree to Broward County as the venue for any legal action without regard to conflict of laws doctrine. Any and all claims, judgments and awards shall be limited to actual out-of-pocket costs incurred, including costs associated with entering this Sweepstakes and never shall include consequential, incidental or punitive damages, and in no event attorneys' or experts' fees. Some jurisdictions will not recognize the exclusive jurisdiction of the Courts of Florida and/or do not allow the limitation or exclusion of liability for incidental or consequential damages, so the above may not apply to you.
14) Publicity. Except where prohibited by law, by winning a prize in this Sweepstakes, you agree to the use by Sponsor and its designees of your name, photograph, statements, city and state for advertising and promotional purposes for this and similar promotions, worldwide, and in perpetuity, in any and all forms of media, now known or hereafter devised without additional compensation, review or approval rights, notification or permission. YOU FURTHER ACKNOWLEDGE THAT IF YOU ARE CHOSEN AS A WINNER, YOUR NAME AND ADDRESS WILL BE DISCLOSED TO THE SHIPPING COMPANY, AND OR THE PRIZE MANUFACTURER.
15) Winners List. A Winners List will be available on or about three (3) weeks after the end of each Drawing on AmazingRibs.com. The name of a winner will remain on the site for at least 30 days.
16) Sponsor and administrator. This Sweepstakes is sponsored by the AmazingRibs.com, 3601 Prairie Ave, Brookfield, IL 60513 and administered by The Marketing Agency, 2881 East Oakland Park Blvd., Suite 425, Fort Lauderdale, FL 33306.
All trademarks are the property of their respective owners. These rules are copyright © 2016 The Marketing Agency.
---
Why is the Sweepstakes limited to US residents?
Most countries have laws governing contests like this to make sure they are honest. In the US they are regulated by the Federal Trade Commission. It cost us $3,000 to have lawyers write the rules above that put us in compliance with US law and we pay an annual fee to have the winner drawn at random by a third party. We have members in more than 20 countries and we could never afford to do legal compliance for all of them. In addition, many of the manufacturers do not ship outside the US, and even if they did, the shipping costs and customs charges are prohibitive. But there are many many other good reasons to join.
---