The new Slow 'N Sear Deluxe Kamado is a large, 22 inch kamado built around Slow 'N Sear's patented Slow 'N Sear charcoal kettle accessory with the aim of creating a premium ceramic grill that brings true 2-zone cooking to a kamado. Kamados are excellent outdoor ovens and smokers, but most round kamados are difficult to set up for the essential technique of 2-zone cooking where you have one hot, direct cooking zone and a second moderate, indirect zone. Read our detailed article about kamados by clicking here.
In 2022 Slow 'N Sear made a few changes. The new cradle is black powder coat. The bottom intake vent is redesigned to fit any thermostatic fan controller that works with the popular Big Green Egg Kamados. The hinge is beefed up and a latch up front clamps the lid closed. And the top exhaust vent now has a rain proof design.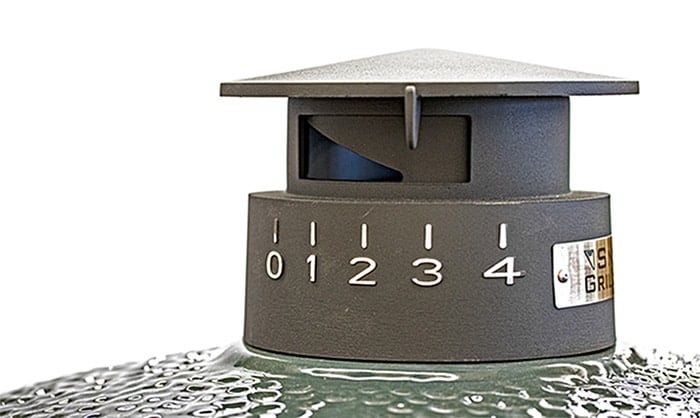 Here's our Virtual Showroom Video of the original model.
Slow 'N Sear first appeared on the market with their innovative Slow 'N Sear (below). Slow 'N Sear is a high quality, stainless steel insert that instantly upgrades Weber kettles and many other round, charcoal burning cookers by enhancing 2-zone separation and intensifying sear power. Click here to learn about the importance of 2-zone cooking. It has a removable water reservoir (right side) that adds humidity. Smoke is attracted to wet surfaces, and it sticks better to wet surfaces, so when we add humidity, we make the food more smoky tasting. This phenomenon is discussed in Meathead's article on smoke.
While humidity can be increased in any kamado by using a water pan, the Slow 'N Sear water reservoir also helps isolate the hot charcoal fire and moderate the indirect zone on the opposite side. Click here to learn why we think Slow "N Sear is the single best accessory for a Weber Kettle ever!
The Slow 'N Sear internal parts are shown positioned inside their Deluxe Kamado below. You can easily see how that steel funnel on the left creates a super sear-zone when filled with red hot charcoal. The large stainless steel drip pan on the right comes with a rack for use as a roasting pan. Place it over the hot charcoal and it becomes a griddle. A 22 inch stainless steel cooking grate has a removable hinged section for easy access to the fire.
CAUTION! Handle the grates and the above parts with care. Many have sharp edges. Nothing life threatening, but we drew blood more than once. ABC needs to smooth those edges out.
2-zone kamado
Traditional kamado designs place the fire at the bottom of the ceramic bowl. Heat and smoke rise up and out the top damper while the ceramic bowl, walls and dome warm up to create even heat across the entire, round cooking grate. Don't over shoot your temp because once that ceramic gets hot, it takes a looooong time to cool down. By containing the fire high and off to one side, Slow 'N Sear avoids heating up the entire ceramic kamado. Heat on most of the ceramic remains relatively moderate, while the air intake and exhaust dampers control the hot fire's temperature in the isolated fire basket. Heat and smoke rise from the red hot charcoal. Upon contact with the cooler dome, some heat and smoke drops back down over the indirect cooking zone creating a circular air pattern. Intense heat remains around and above the red hot fire isolating it from the moderate, indirect side.
Here's a graphic that shows the airflow. 1) Intake Air, 2) Heat, Smoke and Steam production 3) Bypass heat that doesn't make it to indirect zone 4) Indirect convective cooking zone.
In addition to creating 2-zone separation, Slow 'N Sear allows you to keep the dampers open a little more and run the fire hot while still holding down temp on the indirect side. The hot, isolated fire produces cleaner smoke than a smoldering fire that can occur when air dampers have to be shut down to maintain a low and slow cooking temperature. While the fire in traditional kamados can be pushed to one side in an attempt to create 2-zones and/or avoid a large pile of smoldering charcoal, we are struck by the logic and elegance of this design. An added benefit is reduction of fly ash from the contained fire basket which is also super easy to access and replenish.
"Can I just buy the Slow 'N Sear and pop it into the kamado I already own?", you ask. In 2022 Slow 'N Sear introduced a model that fits the Large Big Green Egg and it seems they plan on offering more sizes. Click here to check it out. But none of their current models fit most other kamados.
Below are a couple pix of a Slow 'N Sear in a traditional design 18″ Kamado. From above.
From the side.
They make a version of the Slow 'N Sear called the Slow 'N Sear Low Profile that fits the Weber Summit Charcoal Grill  (see below).
Turboslow
To describe the circular heat pattern, Adrenaline Barbecue Company coined the term "Turboslow". Check out the Turboslow video below made by ABC owner, Dave Parrish.
Unlike Parrish, who cooked at a little higher temp, we did a pork butt at the low and slow temp of 225°F. Once we hit 225°F and threw on the pork, Slow 'N Sear ran all night with no babysitting for 9 hours on one load of charcoal. In the morning we were greeted by a dark brown, smoky Hunk 'O Pork. We replenished the fuel and smoked a few more hours until done.
Next stop – PULLED PORK!
Click here for our Pulled Pork Recipe.
Reverse sear – Extreme 2-zone grilling
Close your eyes and picture your favorite steakhouse steaks; thick and juicy with a really dark crispy exterior, and an even color pink-red inside from edge to edge. You can get steakhouse quality at home with the reverse sear method. Many grillers like to sear meats right away, but by cooking low at 225°F until the internal meat temp gradually reaches 115°F, then quickly searing, you create a delicious, even brown exterior and perfectly pink interior. Learn all about Reverse Sear by clicking here. Reverse sear is also an excellent test of 2-zone performance because you need an extreme difference between the low and slow indirect zone and screaming hot direct zone. For this test, we tried a different, low and slow set up on the indirect side, removing the cooking grate and using the drip pan as a roasting tray positioned low on the stainless steel charcoal grate. When our meat probe hit just under 115°F interior temp we yanked it out, then had to stop and take a pic of the beautiful, smoky color on our 2 inch thick rib eyes (below).
Sear Time! With the cooking grate back on, lid up and all dampers wide open, it didn't take long until the Slow 'N Sear charcoal fire was blazing. Our rib eyes sizzled when they hit that red hot sear zone. Flipping early and often to prevent burning and overcooking the center, our steaks quickly developed that rich, flavorful, brown crust characteristic of the Maillard reaction. Wanna know more about the mouthwatering Maillard reaction and caramelization? Click Here.
The Slow 'N Sear Deluxe Kamado passed our 2-zone test with flying pink and mahogany colors. Yowza!
One zone if you want it
A diffuser plate (also known as a plate setter by Big Green Eggheads) is included to convert Slow 'N Sear to a traditional kamado for times when one zone across the entire cook surface is needed.
Packaging and assembly
Packaging was excellent with heavy cardboard and all parts secured to prevent damage in transit. Excluding the back breaking task of lifting this heavy ceramic beast into the four legged, stainless steel nest, assembly was a breeze. The nest has four heavy duty casters, two of which are locking casters.
Conclusion
Kamados continue to gain popularity and the field is getting crowded with more choices from more manufacturers. Many companies compete on price alone, while premium brands justify their higher cost with innovation and quality construction. Slow 'N Sear Deluxe ain't cheap, but the clever design addresses our main complaint about most kamados; lack of true 2-zone cooking capability. Moreover, it is very well made with lots of high quality, albeit sharp (yeouch), stainless steel. In addition to the items described above, you also get a stainless steel, elevated extender rack that adds an additional 180 square inches of cook surface. Two fold down side shelves that could use some built-in tool hooks and an ash rake are included as well.
Warranty
Lifetime on ceramic, 10 Years on stainless cooking accessories, 5 years on all other parts and 1 year on dome thermometer.
We thank Slow 'N Sear for providing a Slow 'N Sear Kamado for our tests.