Smokenator Accessory For Kettle Grills Reviewed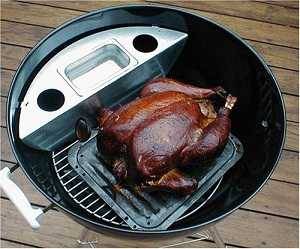 The Smokenator is not a cooker, it is an accessory for charcoal kettles. But it is such an effective and economical accessory, we decided to include it in our searchable data base for our many readers who want to grill and smoke, but don't have the budget to purchase two dedicated cookers. For years we considered the Smokenator to be best in class when it came to accessories for the Weber kettle. However, it has been bumped from that prestigious position by a new invention called Slow 'N Sear. Slow 'N Sear does everything the Smokenator can but better and more. Click Slow 'N Sear Review for detailed info about SNS.
Be that as it may, the Smokenator is still a great tool. For about $70 you can easily convert most Weber Kettles into a smoker capable of making restaurant quality smoked ribs, pork shoulder, brisket, turkey, or salmon. If you have a limited budget or limited deck space, there is no need to buy a standalone BBQ smoker.
Moreover, it is very easy to setup and use, particularly if you already own a kettle and know your way around charcoal. It is designed to conform to the shape of Weber kettles and fits in place effortlessly and intuitively without need of bolts or tools. As Meathead observes, once the coals are hot and the meat is on all you have to do is, "Put the lid on, adjust the dampers, and go drink a beer. The Smokenator will pump out aromatic smoke and just the right low and slow temp for hours."
The Smokenator comes in three sizes: the 180 for an 18.5″ kettle, the 1000 for a 22.5″ and the 2600 for a 26.75″.
Model:

Smokenator

Item Price:

$ 70.00

Where to buy (buying from this supplier supports this website):

Made in USA:

yes

Review Method:

Cooked On It
We have hands-on experience testing this product. We have also gathered info from the manufacturer, owners and other reliable sources.

Primary Function:

Smoker

Fuel:

Charcoal
Published On: 5/7/2013 Last Modified: 12/29/2021
Max Good, Full time grill tester - Max Good, AmazingRibs.com's Vice President of Product Reviews & Keeper of the Flame, is the man in charge of finding the best products for the AmazingRibs.com Equipment Reviews section. Max bottles his own barbecue sauce recipes and now sells them around the country.

---