Bradley Original Electric Smoker Review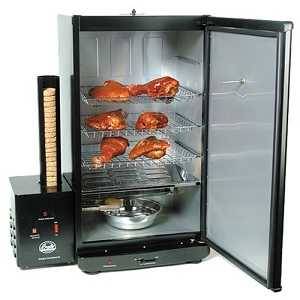 The Bradley Original Electric Smoker is the only smoker they make without a digital thermostat. It consists of a front loading cabinet with a patented "smoke generator" on the side. The smoke generator burns proprietary wood "bisquettes," puck like disks of compressed sawdust, and blows the smoke into the cabinet which has a cooking element. Like pellets, bisquettes are efficient energy sources and generate flavorful smoke. They are made from either apple, alder, hickory, cherry, mesquite, pecan, or a house blend. Bisquettes cost about 40¢ each and burn for 20 minutes.
The Bradley has a 500 watt cooking element, 125 watt smoking element. The cooking element looks fragile and we fear it could easily break if a shelf loaded with food were to slip from one's hand. The exterior of the cabinet is 31″ high x 14″ deep x 17″ wide (plus another 13″ for the smoke generator) and the interior is 15″ wide x 11.5″ deep x 25.5″ high. It weighs 57 pounds including the smoke generator.
It comes with four racks, a cookbook, user guide, built-in thermometer (but no thermostat). The thermometer is highly inaccurate. Lack of thermostatic control makes use of a digital thermometer essential, although you will need to adjust the temp manually as necessary. The exterior is steel with a melted black epoxy powder coating and aluminum interior. The Bradley has won awards and has a devoted following. Here is one rave from Epinions.com: "This cooks the wood to a charcoal and not an ash. When the wood is cooked to a charcoal the smoke is released but the tars and resins stay in the wood. When you cook to an ash the tars and resins are released. This is what traditionally gave BBQ smoked foods a bitter taste. With my Bradley I only get a clean smoked flavor. It is better, NOT bitter. The smoker heats to 300°F so we cook everything in it." This is a popular misconception that is often cited by users of electric smokers. Most smoke flavor comes from gases released from wood when subjected to high heat. What's left behind is charcoal: a fuel that burns relatively clean. Read The Zen of Wood. Many electric smokers simply don't generate enough heat to burn the charcoal.
We've heard complaints about the bisquettes sticking the feed tube. And one must ask, what if they go out of biz? Where do we get bisquettes then? On the plus side, Bradley has an active user forum and their staff are there to help.
The burnt bisquettes fall into the drip pan, so you cannot use drippings in a sauce. To collect drips you need to put a pan on the bottom shelf which reduces your cooking space. Additionally, the smoke generator and the column of bisquettes need to be protected from rain and snow.
The Bradley Smoke Generator can be purchased separately from the cabinet and can be used to turn an old refrigerator or a wooden shack into a smokehouse. It comes with blueprints so you can build your own.
Model:

Original Electric Smoker

Item Price:

$ 429.00

Where to buy (buying from this supplier supports this website):

Amazon

Made in USA:

no

Review Method:

Looked Closely At It
We have seen this product up close and we have also gathered info from the manufacturer, owners, and other reliable sources.

Primary Function:

Smoker

Fuel:

Electric

Primary Capacity:

572 square inches
Published On: 3/29/2013 Last Modified: 3/3/2021
Meathead, BBQ Hall of Famer - Founder and publisher of AmazingRibs.com, Meathead is known as the site's Hedonism Evangelist and BBQ Whisperer. He is also the author of the New York Times Best Seller "Meathead, The Science of Great Barbecue and Grilling", named one of the "100 Best Cookbooks of All Time" by Southern Living.

---