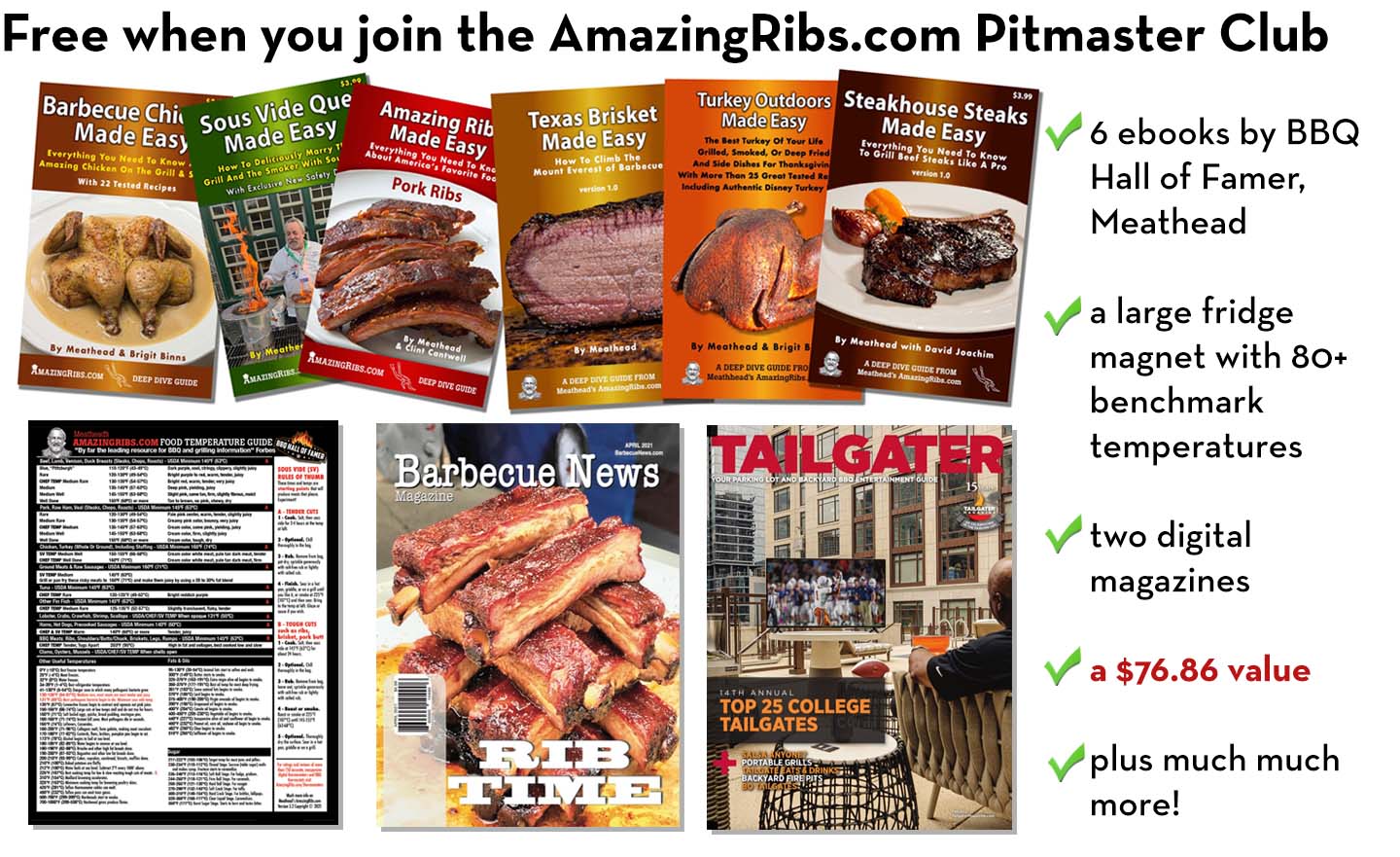 A real community, a place to learn, make friends, and have fun for newbies and pros alike. Your hotline to expertise, with none of the flame wars common on Facebook and other forums. Plus, you get freebies that sell for $76.87 and we block all 3rd party ads from members, all for only $34.95/year!
---
With our no-risk 30 day free trial you get full privileges (except you are not eligible for prizes and we won't ship your free $9.95 Award Winning Temperature Guide until you pay). You can post questions, join conversations, and we block ads for you. And we don't ask for your credit card.
And your privacy is guaranteed. We NEVER EVER track you or share your info with anybody. Click here to read our Privacy Promise.
---
Click to use a coupon/password/special offer for a free 90 day trial found on the cover of the hardbound version of the book "Meathead: The Science Of Great Barbecue And Grilling" and with the Fireboard Spark thermometer. You get 90 days of full privileges (except you are not eligible for prizes and we won't ship your free $9.95 Award Winning Temperature Guide until you pay). You can post questions, join conversations, and we block ads for you. And we don't ask for your credit card.
---
Or pay and join now, risk free! You'll get full privileges, you will be eligible for our monthly drawings, and you will get the $9.95 Award Winning Temperature Guide FREE. And you can cancel and get your money back anytime in the first 30 days!
---
Why not give the gift of membership to your uncle who always burns the chicken?
---
Enjoy the exclusive benefits below
Click the red link to jump to more info about each of these benefits.
---
"The kids ask Mom 'Can Daddy cook tonite?'"

bighunk
No Ads
When members are logged in they don't see paid ads from third parties on any part of the website. Third party ads come from remote servers and they slow the page load times. Without them the site runs faster! So no more bogus diet ads and no more mortgage come-ons! And members don't see ads for the Pitmaster Club either.
---
"The guys in the firehouse won't let anybody else cook."

firebuilderfirefighter
---
Comprehensive Giant Food Temperature Guide Magnet that sells on Amazon for $9.95
For a limited time, we send new paid members our 8.5″ x 11″ all weather Comprehensive Food Temperature Guide Magnet with more than 80 temperature benchmarks for meats, sugar, oil, sous vide, and more. It sells for $9.95 on Amazon.com. That's 42% of the price of a membership as soon as you join!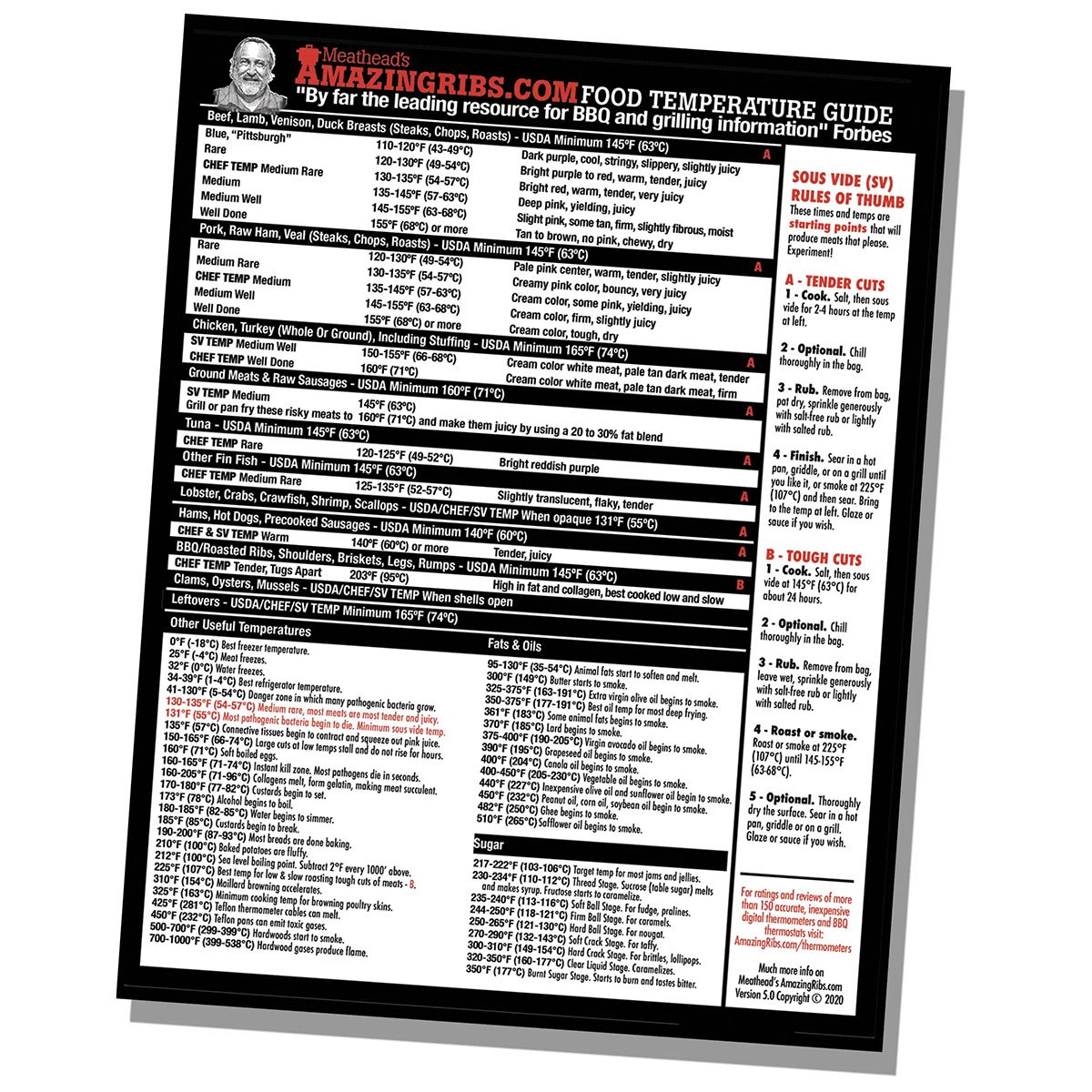 ---
"My family and I lost our home and vehicles in the floods, but not each other. Several members have reached out to me. The fact that people have been so thoughtful is very emotional for me. This club is something special, and I honestly don't even know how to thank everyone." Anonymous member in Baton Rouge
---
Free books

Our team publishes eBooks under our publishing banner, Deep Dive Guides, and, although they are sold on Amazon for $3.99, you'll be able to read a flipbook version free in "The Pit". So far we have published three with more in the works: Amazing Ribs Made Easy and Sous Vide Que Made Easy and Barbecue Chicken Made Easy.
---
"The fee is minimal and helps this site carry on the good fight. The thing that drew me to the site was the professionalism, experience, and genuine caring of its members which is unlike any other. As I read through the questions asked, and the responses from members, there is never anything smartass said and nobody is putting anybody down. The members truly care about helping others learn." Travis
---
EXCLUSIVE! Free sneak preview of Meathead's new book
Members get exclusive excerpts and recipes from Meathead's forthcoming book, "The Meathead Method, Barbecue Science Meets Art".
---
"I love this place. I asked what to do with Top Round and in 30 minutes I had a great bunch of answers. I love AmazingRibs.com enough to shell out $23.95/year!" Eric Cowperthwaite
---
Free Barbecue News magazine every month
Members get the digital version of Barbecue News monthly. The print version sells for $25/year and digital version is $15/year. Founded in 1989, Barbecue News is the only magazine devoted to barbecue and it features columns from BBQ Hall of Famers Ardie Davis and Paul Kirk, recipes, news from BBQ associations, a calendar of events, a restaurant guide, book reviews, and ruminations by other experts including the team at AmazingRibs.com (beginning in December). The digital version is especially cool because it is interactive. Many articles and ads are clickable linking you to more info.
---
"What I have already learned is worth that cost." Adam Payne
---
Free Tailgater magazine
Our members also get a digital subscription to Tailgater magazine, "Your Parking Lot and Backyard BBQ Entertainment Guide". They feature great food & drink recipes, entertainment ideas, and cool gear and products to make your next tailgate, or backyard BBQ the best ever. Tailgater in print sells for $27.97 for 6 issues. The digital version is is interactive with many of the articles and ads clickable linking you to more info.
---
"I am loving the Pitmaster Club. The Doc Blonder videos rock! Collecting superb recipes. I belong to two other private clubs, but The Pitmaster Club brings me the most fun of all!" John Markus, Producer, BBQ Pitmasters TV Show
---
Exclusive recipes, recipes, recipes!
Our professional recipe developers set aside some of their most creative tested recipes just for members. In addition, members post their favorite recipes in the Pitmaster Club forum and there are some pretty creative, tasty recipes.
---
"Moments after I asked my first question, it was a professional chef from Alaska who answered me. IMPRESSIVE!" richinlbrg
---
Inspiration!
Our section "Show Us What You Are Cooking" is foodporn at its best. We go there for inspiration and ideas, tips on technique, and to marvel at the photographic skills of fellow members.
---
"After unpleasant experiences in a group on Facebook, I was struck by what a great community we have here. Everyone treats everybody with respect and is welcoming of newbies." Buck Flicks
---
Monthly Great Giveaways Worth Up To $3000
Pitmaster Club members in the US will be entered into all 12 monthly drawings per year with first prizes worth from up to $2000, second prizes worth up to $600, and third prizes worth up to $300. Your odds are 1 in 444 in a year, including free smokers, grills, and more, shipping included! Click here for the complete list of prizes and the complete rules of the sweepstakes and click here to see previous winners. Alas, if you live outside the US you are not eligible for this member benefit. That's because every country has different laws governing sweepstakes and we can't ship grills and smokers across national boundaries.
Here's Jim Doyle, one of the winners with his $1,500 Slow 'N' Sear Kamado and more.
---
"What you learn in one hour on here is worth more than the fee." ontheranch
---
Audio Video
Members get access to hundreds of audio and video interviews and Wagyu quality conversation.
1) Zoom "Happy Hours." The first hour is dedicated to a single topic where you can ask experts on the topic and the second hour is Q&A on anything. Here's the panel on Pellet Cookers (L to R, top to bottom): Jason Baker of Green Mountain Grills; Meathead, owner of AmazingRibs.com; Rod Gray of Pellet Envy championship BBQ team and Eat BBQ sauces and rubs; Max Good, the world's only full-time grill and smoker tester for AmazingRibs.com; Clint Cantwell, Senior VP of AmazingRibs.com, and Candy Sue Weaver, manufacturer of BBQrs Delight pellets and President of the Kansas City Barbeque Society. All Happy Hours are recorded and archived for members to watch at their liesure.
2) We share Jeff "The Cowboy Cook" Tracy's radio interviews with expert pitmasters and chefs once or twice a month.
3) The PitCast with Greg Rempe of the BBQ Central Show has hundreds of fascinating interviews with BBQ celebrities and Pitmaster Club members.
4) More interviews by our team with people like Tuffy Stone, Rick Browne, Chris Lilly, Harry Soo, Prof. Greg Blonder, Aaron Franklin, Myron Mixon, Candy Sue Weaver, and more. Check the seven minute excerpt from Meathead's discussion with Dr. Blonder on salt, below.
---
"If someone doesn't have the answer, people do research & find the answer!" FireMan
---
Cartoons!
Enjoy the humor of cartoonist Jerry King weekly as he pokes fun at our wacky lifestyle.
---
"I have been on forums for years for different topics. There always seems to be a bit of unneeded drama and people just trying to stir things up. That doesn't occur here." clb239
---
Great discussions and debates and knowledgeable moderators to help you
Moderators and members share tips, opinions on cookers, restaurants, tools, butchers, techniques, and more, all respectfully without flame wars, politics, race, religion.
---
"It is a supportive and nurturing environment. I am an infinitely better cook and and more knowledgeable than I was a year ago, because of this site and I am grateful."

pjlstrat
---
Monthly "Hot From The Pit" newsletter
Every month we send members an exclusive email newsletter, "Hot From The Pit", with recipes from members and highlights of discussions from The Pitmaster Club. The food porn is amazing. Members also get "Smoke Signals", our monthly email newsletter with news of new articles and recipes on the free portion of the website. We also send DigestThis.news, a curated round-up of all the food news from around the world from farm to fork.
---
"I used to work as a chef and have learned more here than I ever did in restaurants." Captain Super Awesome
---
Meat-Ups!
In February 2017, we held our First International Meat-Up in the Bahamas with more than 50 members of the Pitmaster Club. Check out the video:
In addition, several of our members organize local Meat-Ups in BBQ joints and their own backyards around the world all year long. Her's the gang gathering in Texas for a run to Snow's and other top rated pitstops.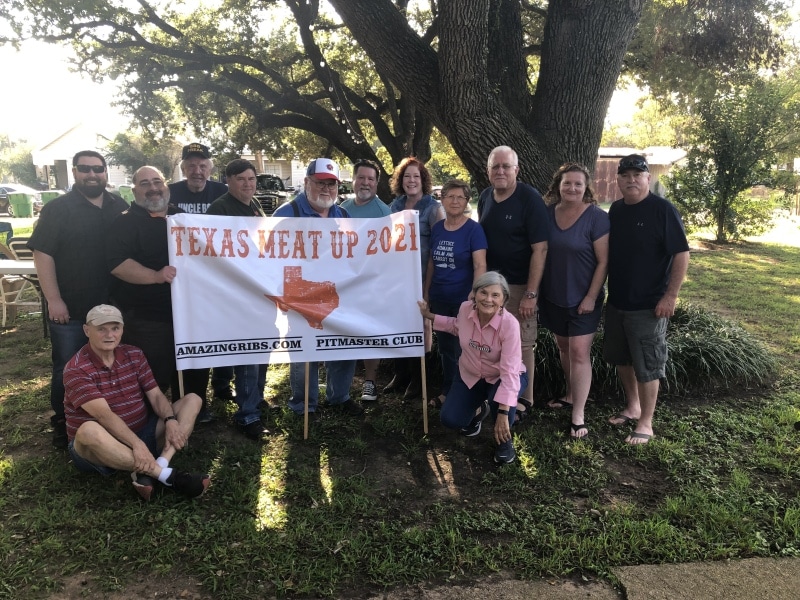 ---
"The staff and members are the gold standard of how social media should be." Rod
---
Discounts on products we love
Manufacturers recognize our members as important opinion leaders in the barbecue and grilling world and often make products available to them at special prices. Some examples (these examples may no longer be available since they often last only 30 days): $20 off on ThermoWorks' Thermapen MK4. $12.50 off on LooftLighters. Half off on membership in ChefSteps' Studio Pass ($34.50 savings). $335 off on PK360 Grill Bundle. Up to 25% off on the superb meats from Porter Road. $139 off a Grilling pack of superb meats from Allen Brothers. And more!
In addition, we are your champions. Because we are the world's largest BBQ and grilling membership association, and because our robust product review program is well respected for its integrity and honesty, we know many of the execs in the biz. If you get poor or sluggish response from customer service, let us know and we will see if we can light a fire under their butts.
---
"I've learned more about BBQ in the last 5 months than I had in my life. The Pitmaster Club is a wealth of information." Panteracfh3
---
Members can buy this cool embroidered Pitmaster Club shirt
This beautifully embroidered shirt is the same one I wear in public and on TV. It's wash and wear and doesn't need ironing, but it is a soft cottonlike feel. Choice of four colors and both men's and women's.
Members can also order men's and women's T-Shirts, Sweatshirts, Aprons, Mugs, Caps, Tote Bags, Flasks, and more, all imprinted with the Pitmaster Club logo, in a variety of colors. Prices are very reasonable. There's even a spiral bound journal where you can make notes on your cooks.
---
"I just spent the last couple hours watching your videos and they were amazing! I know I will be watching them again. Please keep up the great work and thank you again for a great fun and educational product." Jeff Lockwood
---
Membership certificate
Frame and hang a certificate on your wall that proclaims you to be a Pitmaster!
And you can order some stickers:
---
"I have also been pleasantly surprised to have made a few good friends here." Steve B
---
Support for Operation BBQ Relief
We donate a percentage of all membership fees to Operation Barbecue Relief, a 501(c)(3) not-for-profit disaster relief program that sends pitmasters into US disaster areas to feed the first responders and homeless. If there is a tornado or flood, they are there within hours. By joining you help support this amazing service. Click here to learn more about the remarkable work OBR does.
Support for Global Alliance for Clean Cookstoves
We also donate to the Global Alliance for Clean Cookstoves. This remarkable a 501(c)(3) not-for-profit organization develops and distributes high efficiency cookstoves to the needy around the world. Many are wood burning but they require much less wood than the old fashioned stoves that also filled their huts and eyes and lungs with soot. These new designs are practically smokeless. Some burn biomass such as rice husks or even dried dung and some use solar energy. Some are even manufactured locally. Some of these clever designs have come from the recreational camping world, and many have migrated the other way, into the camping world. Below is a well insulated high efficiency unit that can burn wood, biomass such as crop byproducts like corncobs, it can run on solar, and can even store enough energy to power a light or charge a cell phone. Reducing the amount of wood means less deforestation in dry areas and women spend less time collecting wood and are at less risk. Click here to read more about this remarkable organization.
Our privacy guarantee
We will never sell or share your private info. Our privacy and security promise is as good as it gets.
Secure transaction
When you pay, your payment is secure. We never see or store credit card info. The subscription page is a portal directly to Stripe.com, a huge respected card processor that is certified to PCI Service Provider Level 1, the most stringent level of certification available. It is also GeoTrust Secured. They have never been hacked. They are far more secure than handing your credit or debit card to a stranger in a restaurant, gas station, or a grocery store.
Easy autorenewal
For your convenience, when the year is up, you don't have to do a thing to renew. Three weeks before your membership expires we'll send you an email asking if you want to renew. If you do, don't do a thing, you will be renewed automatically. No renewal notices and no telemarketing calls. If you don't want to renew, just click the cancel link in the email or on any page of The Pitmaster Club. But our money back guarantee extends to renewals too: If you renew and change your mind within 30 days, we will refund your money promptly, no questions asked. And remember, we never see or store credit card info! We think this is a lot better than bombarding members with emails and snailmails begging them to renew.
We can up your game! The Pitmaster Club is a real barbecue community, a place to learn, make friends, and have fun.
---
Ode to The Pitmaster Club
From TBoneJack, the unofficial Poet Laureate of The Pitmaster Club:
AmazingRibs is where you go,
To get the best advice,
You'll find out how, to smoke a cow,
And it will turn out nice.
Smokers, gadgets, recipes,
Charcoal, gas, or wood?
The how, the why, and what to try,
When things arn't going good.
Selection, prep, and cook techniques,
Marinades and such,
Rubs and brines and temps and times,
And how to use the Crutch.
Brisket secrets are revealed,
For moist and tender meat,
The point, the flat, the rendered fat,
The proper mix of heat.
I found out how to smoke spare ribs,
Great bark and taste and worth,
I want some more, I'll have them for,
My last meal on this Earth.
Memphis Dust did suit them well,
I served them without sauce,
Not 3-2-1, not overdone,
No precious flavor loss.
Jambo, Lang, or Meadow Creek,
It's hard to make the call,
Almost a crime, so little time,
I'd like to try them all.
I'm not ashamed, I'm not alone,
'Cause many have this lot,
But I'll admit, here in the Pit,
My wife said Not! Not! Not!
Weber, Brinkman, PBC,
No need for budget breach,
They cook great food, just ask me dude,
'Cause I have one of each.
Obsessed I am, I know it's true,
They call it MCS,
I saw the doc, he was in shock,
He too is in this mess.
Myron Mixon, Johnny Trigg,
Cool Smoke's Tuffy Stone,
Harry Soo, Chris Lilly too,
And Moe who cooks alone.
They're all good, I like them fine,
I'm sure they cook good Q,
They've earned the right, I see the light,
I'll give them their fair due,
But I have learned, thru many cooks,
This web site is da bomb,
For what to do, browse over to,
AmazingRibs dot com.
Tired of seeing popup ads?
No need to throw a fit,
Don't you know, just spend some dough,
And join us in the Pit.
And if you travel, don't despair,
No further should you look,
The answer's clear, put down your beer,
And order Meathead's book.